politics
Senate Committee Advances Fed Vice Chairman Nominee Clarida
By
Clarida and Michelle Bowman win panel's bipartisan support

Marvin Goodfriend's Fed nomination remains in Senate limbo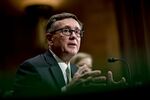 Richard Clarida, the economist nominated by President Donald Trump to be vice chairman of the Federal Reserve, won bipartisan support from members of the Senate Banking Committee on Tuesday, signaling he will likely win confirmation in the full chamber.
Michelle Bowman, the Kansas state banking commissioner nominated to serve as a Fed governor, also got a thumbs-up from both Republicans and Democrats, meaning two of Trump's three current Fed nominees appear well on their way to joining the central bank.
The pair overcame opposition from the panel's top Democrat, Ohio's Sherrod Brown, who questioned their commitment to maintaining post-crisis financial regulation and criticized Republicans for blocking Obama administration nominations to the Fed. Clarida received support from seven Democrats, and Bowman from five, in addition to unanimous backing from Republicans on the committee. The full Senate hasn't yet scheduled a vote on the nominations.
Clarida's addition to the Fed would round out the institution's new slate of leaders, following Trump's promotion of Jerome Powell from governor to chairman in February -- replacing Janet Yellen -- and the decision by directors of the New York Fed to appoint John Williams as their next president, effective June 18. There are currently four vacancies on the seven-seat Board of Governors in Washington.
Mainstream Picks
Unlike at other government agencies, where Trump has picked outsiders with an aim to disrupt the status quo, his Fed picks have proved mainstream. While Powell represents a change in style from the professorial Yellen, he has kept central bank policy precisely on the gradual path of interest-rate increases that his predecessor established.
Clarida, a Columbia University professor, prominent monetary economist and global strategic adviser at Pacific Investment Management Co., is unlikely to shake things up. In his confirmation hearing in May, he aligned himself closely with Powell's views on both monetary and regulatory policies.
If confirmed as expected, Bowman would fill a slot on the Board of Governors reserved for a person with experience in community banking. A fifth-generation banker, she worked at Farmers & Drovers Bank in Council Grove, Kansas.
It remains unclear whether a third Fed nominee, Carnegie Mellon University Professor Marvin Goodfriend, can win enough votes for confirmation. He faces strong opposition from Democrats and at least one Republican.
Goodfriend began his confirmation process late last year with some Democratic opposition because of his views emphasizing the importance of keeping inflation close to the Fed's 2 percent target over its other mandated goal of maximizing employment. His support among moderate Democrats then collapsed after a contentious confirmation hearing in January in which he struggled to defend his views.
On the Republican side, Kentucky Republican Senator Rand Paul has said he would oppose Goodfriend's confirmation. With the ailing Arizonan John McCain unable to attend floor votes, that leaves Goodfriend at least one vote short unless Republican leadership can win over some Democrats.
Before it's here, it's on the Bloomberg Terminal.
LEARN MORE