economics
G-7 Fallout, Central Banks' Big Week, the Black Panther: Eco Day
By
Central banks, security and trade all on the agenda this week

Bank of America asks if it's the biggest economic week of 2018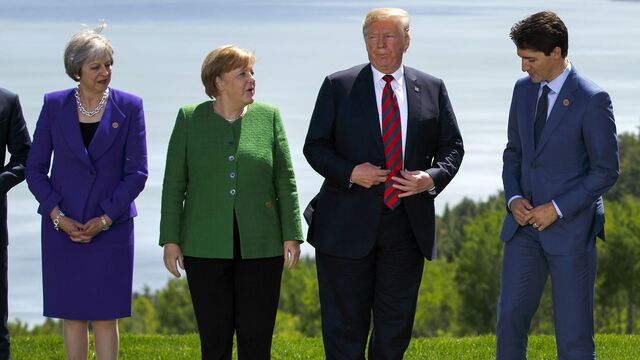 Happy Monday, Europe. Here's news and analysis from Bloomberg Economics to help get your day started:
The G-7 fallout continues after President Donald Trump broadsided his allies and disavowed a joint statement the U.S. had agreed to. Trump's trade adviser blamed Canada for the failure to finalize a reboot of the North American Free Trade Agreement
The tensions come in what could be the world economy's most important week of the year
In central banking, the Bank of England is about to get some crucial economic numbers to assess -- if it believes them
With the Federal Reserve expected to hike, analysts were unanimous in forecasting that the Bank of Japan will leave its monetary policy unchanged at this week's meeting
Economists reckon Mario Draghi is ready to end the European Central Bank's bond-buying program even if he puts off the decision for one more policy meeting
South Korea's Kim Dong-yeon, the country's finance minister and deputy prime minister, urged Trump and North Korean leader Kim Jong Un to heed the words of the Black Panther from this year's hit movie
If you missed it, Switzerland dismissed a proposal to radically change the way banks lend money, a victory for the financial establishment
Before it's here, it's on the Bloomberg Terminal.
LEARN MORE