markets
Five Things You Need to Know to Start Your Day
Here are some of things people in markets are talking about.
By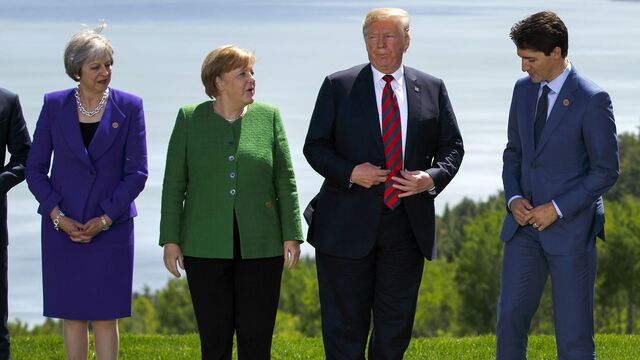 Want to receive this post in your inbox every morning? Sign up here
The G-7 becomes the G-6 after President Donald Trump proposed to return it to the G-8, Trump and Kim Jong Un prepare for their tete-a-tete in Singapore, and Xi Jinping gets another stage to sell his win-win agenda. Here are some of the things people in markets have been talking about.
G-6 Versus One
The Group of Seven industrialized nations have had bouts of tension before, but perhaps not quite like the stormy gathering in Quebec. U.S. President Donald Trump faced criticism from his counterparts over his administration's moves to boost tariffs on imports from its allies on national-security grounds. In a move that potentially raises questions about the future of the group that has long served as the premier economic superpower confab, Trump then disowned the G-7's joint statement. White House economic adviser Larry Kudlow said Canadian Prime Minister Justin Trudeau's labeling of American tariffs as "insulting" had triggered the spat. German Chancellor Angela Merkel said the discord was depressing.  
Historic Summit Looms
Trump quickly shifted gears from the G-7 summit to his peace-making agenda with North Korea, heading to Singapore for an historic meeting with Kim Jong Un, the third in the Kim dynasty of dictators in the reclusive north Asian nation. Security experts have found it tough to predict what will come out of the session, given the American president's unpredictable negotiating style. Few believe North Korea will surrender its nuclear weapons without major concessions from the U.S. But it's also hard to imagine the U.S. agreeing to a step as radical as, say, withdrawing its military forces from South Korea. A move toward peace could stoke risk-on bets in financial markets, while a breakdown might see the yen in demand as a haven. The end of sanctions could bring an investment boom. 
Xi Hosts Asia Leaders
The Trump-triggered disarray among the G-7 played nicely into the hands of Chinese President Xi Jinping, who has been positioning himself as a champion of globalization and defender of multilateralism. Xi hosted a gathering of the Shanghai Cooperation Organization, an eight-member group designed to coordinate security policies across Asia. He and Russian President Vladimir Putin reaffirmed their "strategic partnership" at the meeting. Indian Prime Minister Narendra Modi reached agreement with Xi over some trade issues, and invited his counterpart to come to India for an informal summit next year. Xi accepted, in a sign the two most populous Asian nations are mending ties after bouts of tension over their disputed border.
No Swiss Experiment
Swiss voters overwhelmingly rejected an innovative proposal to rein in financial risks that had got increasing attention from economists and market strategists in recent weeks. The idea, known as Vollgeld in German, would have ended the practice of fractional reserve banking, where banks keep only some deposits on hand to meet withdrawal demands, and lend out the rest. Shifting control of the money supply more directly to the central bank would make the financial system safer, proponents argued. While the initiative is dead for now, the fact that the plebiscite got increasing attention from market participants could spur fresh thinking.
Mueller Rolls On
Special Counsel Robert Mueller's investigation of Russia's alleged interference in the 2016 U.S. presidential election continues, with indictments released Friday against Trump's former campaign chairman, Paul Manafort. The charges added witness-tampering allegations to accusations that Manafort did illegal lobbying work for Ukraine and laundered millions of dollars in proceeds. Meantime, Mueller's team is said to view Rudy Giuliani more as a spokesman than a legal representative for Trump in the investigations.
What we've been reading 
This is what caught our eye the past 24 hours.
Before it's here, it's on the Bloomberg Terminal.
LEARN MORE