markets
From Fed to Trump-Kim Summit, EM Traders Seek Clues for Rebound
By , , and
Traders also monitor Mexico presidential debate on Tuesday

Argentina and Russia are set to announce rate decisions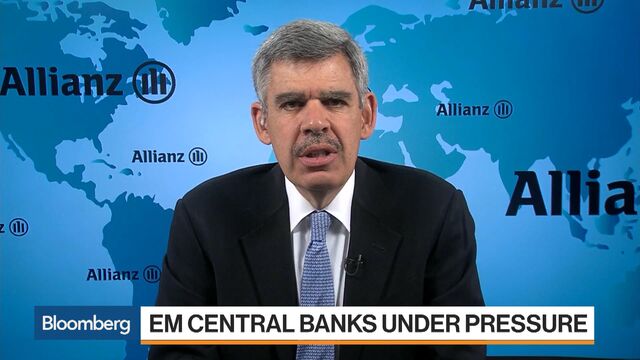 Emerging-market investors are tiptoeing into Monday chastened by a week that saw two surprise interest-rate hikes, a market meltdown in Brazil, Argentina's $50 billion loan rescue, rising fears of a trade war and the realization that the end is nigh for stimulus in Europe.
That's not to mention an all-but-certain rate increase by the Federal Reserve on Wednesday, and potential drama tied to Donald Trump's much-anticipated meeting with North Korean leader Kim Jong Un in Singapore on Tuesday. The European Central Bank's meeting on Thursday may be under more scrutiny after comments from officials last week raised speculation that the monetary authority is ready to end its asset-purchase program.
"Nobody will be surprised if the Fed hikes," Ahmed Behdenna, senior strategist at the multi-asset team at Aviva Investors, said in an interview in Singapore. "Probably the biggest surprise is if the Fed does not do anything. We continue to think the ECB will end quantitative easing this year. The peak of easing monetary policy is behind us."
What you Need to Know About Emerging Markets This Week: Audio
Trump said he may sign an accord with Kim to formally end the Korean War after almost 70 years. Progress toward easing tensions in the peninsula is likely to boost the economic outlook for South Korea and the region.
"Some kind of tension-reducing deal is, of course, basically good news, but markets have already priced this in," said Leon Cornelissen, chief economist at Robeco in Rotterdam. "If the summit would fail and the U.S. would return to beating the war drums, this basically should not unsettle markets too much."
It would be one less risk for emerging-market investors to worry about after a rising dollar exposed short-comings in monetary policy in some emerging markets this quarter. Currencies and bonds declined for a second week in the five days through Friday, but the dollar wasn't to blame. The Bloomberg Dollar Spot Index dropped last week for the first time mid-April.
Read More: Brazil Boosts Currency Defense as India, Turkey Hike: EM Review
Elsewhere, Mexican peso traders will monitor the third presidential debate, taking place Tuesday, after leftist presidential front-runner Andres Manuel Lopez Obrador widened his polling lead. In the opposite hemisphere, FIFA expects more than 3 billion people to tune in as the World Cup kicks off in Russia.

Renewed trade tensions are also on the horizon as U.S. tariffs on $50 billion worth of Chinese imports will be completed by June 15. This could end up in "some form of tit-for-tat," which will have significant negative implications for global growth, according to Craig Chan, the global head of emerging-market strategy at Nomura Holdings Inc. in Singapore.
Politics, Roadshow
Elections in South Korea on Wednesday will be a key test of public support for President Moon Jae-in and his drive for a rapprochement with North Korea
Ecuador Finance Minister Richard Martinez travels to New York and Washington early in the week to meet multilateral lenders and bondholders for a non-deal roadshow
Events
Colombia Central Bank Governor Juan Jose Echavarria, Finance Minister Mauricio Cardenas and President Juan Manuel Santos are set to speak at an event in Bogota on Tuesday
Peru's central bank President Julio Velarde and the Finance Ministry's director of capital markets, Jose Olivares, will speak at an event Tuesday, days after the appointment of new Finance Minister Carlos Oliva
Data
China will report measures of credit growth for May this week and is also set to report retail sales and industrial production Thursday
Argentina's central bank will probably keep its benchmark rate at 40 percent on Wednesday for a third consecutive meeting in its effort to stabilize the peso after reaching a financing deal with the IMF
Russian central bank Governor Elvira Nabiullina is promising a "real discussion" on rates when policy makers meet on Friday. So far, 11 economists are forecasting a 25 basis point cut, while 15 see no change to the 7.25 percent key rate, according to a Bloomberg survey
In South Africa, investors spooked by weak GDP data will be watching reports on business confidence, retail sales and mining output for clues on the outlook for Africa's most-industrialized economy
Poland will present current-account data Wednesday, followed by a CPI reading for May on Thursday and core inflation print Friday. The Finance Ministry will also hold its only switch bond auction of the month
(
Updates with strategist's comments in the third paragraph.
)
Before it's here, it's on the Bloomberg Terminal.
LEARN MORE