politics
Soros-Backed Campaign Calls on Voters to Target MPs on Brexit
By
Best for Britain says 40-50 lawmakers support vote on deal

YouGov poll shows respondents split evenly on leaving EU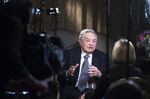 The anti-Brexit campaign group backed by billionaire George Soros called on British voters to pressure members of Parliament to force a referendum on the government's divorce deal with the European Union.
Best for Britain, which receives about 20 percent of its funding from Soros, wants a "national conversation" about Brexit and its effects to help trigger a second vote by March next year, the group's chairman Mark Malloch-Brown told reporters in London on Friday.
Between 40 and 50 lawmakers have said they will support the move, he said -- a fraction of the number needed to get legislation through the 650-member House of Commons. But others are open to persuasion, he said.
"Our politics has failed us. We remain a divided Britain with the two warring factions we woke up to the morning after the referendum," he said. "Like men looking for a lifeboat in a storm, my suspicion is that if we get some momentum behind this idea we'll very quickly recruit parliamentarians to it."
Foreign Office Minister Alan Duncan said on Thursday it would be possible for Britain to hold a referendum on the exit deal -- though not on leaving the EU itself.
That approach was rejected by Malloch-Brown, who said voters should be given the choice to remain in the EU if they don't like the agreement Prime Minister Theresa May brings back from Brussels.
Labour View
The Labour Party, whose support would be needed to win a vote in the Commons, hasn't ruled out backing such a plan, economy spokesman John McDonnell said in April. Five of the party's lawmakers from northeast England signed a letter calling for a referendum last month, though Owen Smith was fired as the party's Northern Ireland spokesman for making a similar call earlier in the year.
Best for Britain's plan is to appeal directly to voters through campaign events across the country supported by 50,000 volunteers. It wants a debate based on facts, rather than the emotions and propaganda that it says dominated the original referendum in 2016.
Respondents in a YouGov poll of 1,619 voters for the Times newspaper carried out on June 4 and 5 were split evenly at 44 percent when asked if "Britain was right or wrong to vote to leave the European Union."
"This can't be a debate fought solely within the walls of Westminster," Eloise Todd, Best for Britain's chief executive officer, told reporters. "Until this debate gets back into the kitchens and living rooms of this country, we'll stay divided."
Before it's here, it's on the Bloomberg Terminal.
LEARN MORE