politics
Finland to Host Helsinki Meeting of U.S., Russian Defense Chiefs
By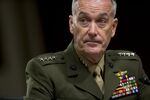 The Finnish Defense Forces will organize a meeting of top officials from the U.S. and Russian armed forces in Helsinki on Friday.
U.S. Armed Forces' Joint Chiefs of Staff Chairman Joseph F. Dunford Jr and his Russian counterpart Valery Gerasimov will meet on June 8 on the initiative of the U.S. and Russia, the Finnish Defense Forces said in a statement on Thursday. Finland isn't part of the meeting, it said.
Dunford and Gerasimov will also have separate bilateral meetings with Finnish President Sauli Niinisto as well as with General Jarmo Lindberg, commander of the Finnish Defense Forces.
Before it's here, it's on the Bloomberg Terminal.
LEARN MORE