pursuits
How Triple Crown Bets Produce a 78% Profit
By
Justify is certain to attract lots of money in Saturday's race

Longshots, though, have won at huge odds over the years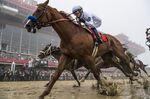 Three years after American Pharoah ended the 37-year Triple Crown drought, another colt, Justify, is knocking on the door.
The big chestnut could certainly pull it off. By all accounts, he has looked as good in his training the past two weeks as he did prior to his wins in the Kentucky Derby and Preakness Stakes.
But before you go betting on him wildly in the Belmont Stakes, here are a few numbers to keep in mind: American Pharoah paid $3.50 to win back in 2015. That is a meager profit of just $1.50 on each $2 wagered. Congratulations.
Now, that price is about normal for a horse chasing the Triple Crown in the Belmont (and Justify figures to go off right around those same odds on Saturday as well). So when you add Pharoah's victory to the ledger and calculate the numbers, wagers on all horses vying for the Triple Crown in the Belmont since its inception -- both winners and losers -- have generated a loss of 40 percent.
Conversely, if you blindly wagered on every single Belmont horse challenging those Triple Crown candidates over the years -- more than 200 bets in all -- you would have turned a profit of 78 percent. It's an astonishing number. And it happened because gamblers have consistently, and foolishly, overestimated Triple Crown contenders, swelling the odds of all the other horses in the process. There have been some eye-popping win-ticket prices over the years: 29-1, 34-1, 36-1, 38-1, 65-1, 70-1. All produced in a sample of just 32 races.
The conclusion is obvious: Go out there and bet against Justify. Bet on two of his rivals or three or four or, heck, I don't know, maybe on all of them.
The odds are on your side.
(David Papadopoulos, a senior editor at Bloomberg News, is a voter in the thoroughbred industry's annual Eclipse Awards and has been publishing his Triple Crown picks since 2012. His Belmont Stakes selections will be released on Friday.)
Before it's here, it's on the Bloomberg Terminal.
LEARN MORE