business
Brexit Bulletin: A Written Proposal
By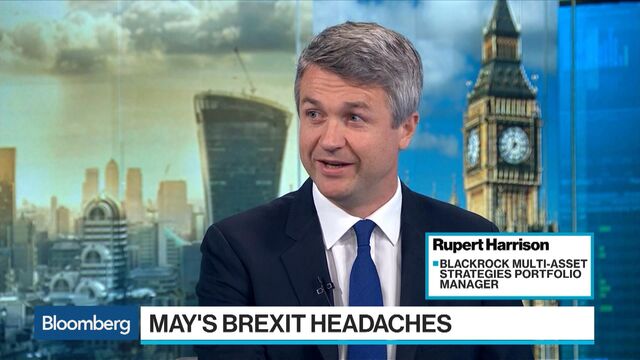 Today in Brexit: British negotiators are preparing to present a proposal on the Irish border during talks in Brussels. On the wider issue of the future trading relationship, there's more delay, and businesses are getting nervous.
The U.K. is hoping to make some progress on the issue that's holding everything else back: the Irish border. During a fresh round of Brexit talks in Brussels, the U.K. will present its proposal for avoiding a hard border – this time in writing, Tim Ross reports.
But as steps are being taken to try to break the deadlock on Ireland, the broader matter of what kind of relationship the U.K. will seek with its biggest trading partner after Brexit is stalled. Prime Minister Theresa May said last month she would publish a policy document, or white paper, in June that would clarify her government's position. That no longer looks set in stone.
At the time, it was seen as a move to force her warring Cabinet into a common stance. But they're no closer to an agreement. If the white paper isn't published soon, that means May goes into a crunch summit with other EU leaders on June 28 – the last one before the October gathering where the whole divorce deal is meant to be wrapped up – without a clear position on what the U.K. wants.
Businesses are getting edgy. May gathered company bosses on Monday and their message was clear: Get on with it. Some of them are putting contingency plans in place, and they are crying out for more clarity. 

For now, the focus is on getting a compromise on the Irish border, which the EU wants in time for the summit later this month. The proposal – which May informally outlined to Irish Prime Minister Leo Varadkar last month – keeps the whole U.K. in the EU's customs regime for a limited time after the divorce. It's a backstop to ensure no policed frontier emerges between Northern Ireland and the Republic of Ireland when the final trade deal comes into effect.
Varadkar was cautiously polite, but EU officials have been less so. There are two main problems. Keeping EU customs rules alone isn't enough. Many checks, mostly involving regulations and standards, would still have to be carried out at the border, as EU has pointed out in a slideshow. The other problem is that in order to keep the Brexit supporters in her Cabinet on board, May is insisting the backstop border solution must be "time-limited." For the EU, if it's not open-ended, it's not fit for purpose. Let's see how negotiators try to redefine the meaning of time-limited.
Today's Must-Reads
Some Labour lawmakers would rather quit than see Jeremy Corbyn as prime minister. Rob Hutton and Tom Penny take a look at the quandary facing centrist Labour lawmakers.
Businesses told May on Monday they need clarity and that she needs to get on with the key Brexit decisions, David Hellier and Suzi Ring report.
Brexit in Brief
Save the Date | The government has set June 12 as the date the EU withdrawal bill comes back to the House of Commons for one marathon session. The Commons will try to overturn all 15 amendments inserted by the House of Lords. It will be a showdown between different factions of Tory lawmakers as they vote on measures aimed at keeping the U.K. in the on single market and customs union, and giving Parliament the power to send May back to the negotiating table if it doesn't like the final deal. Pro-EU lawmakers are angry it's all been pushed into one day.
No Time to Freeze | EU chief negotiator Michel Barnier said failure to reach a deal on the Irish border this month will increase the risk of a messy divorce but ruled out resorting to punishment measures such as freezing talks with the U.K., he told Bloomberg in Budapest.
Nuclear Deal | The U.K. reached an accord with international inspectors that will help keep the flow of nuclear materials going after Brexit. The International Atomic Energy Agency deal will "replace existing agreements" between needed for the import and export of fuel used in nuclear power plants.
Something to add? 
Please join our Facebook group, Brexit Decoded, and follow us @Brexit on Twitter.
Missed yesterday's Bulletin?
You can catch up here, or sign up to get it as a daily newsletter.
Like the Brexit Bulletin? Subscribe to Bloomberg All Access and get much, much more. You'll receive our unmatched global news coverage and two in-depth daily newsletters, The Bloomberg Open and The Bloomberg Close.
Before it's here, it's on the Bloomberg Terminal.
LEARN MORE