markets
Five Things You Need to Know to Start Your Day
Here are some of the things people in markets are talking about.
By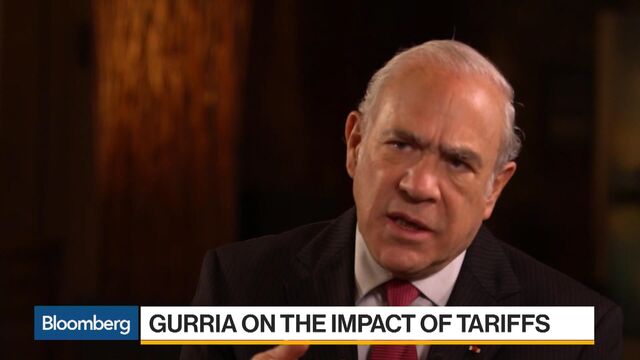 Want to receive this post in your inbox every morning? Sign up here.
Trade showdown looms as U.S. to meet Group of Seven allies at summit, Asian markets set to open higher after U.S. jobs numbers though trade clouds gather, and rate decisions in Australia and India are among key economic events. Here are some of the things people in markets are talking about.
Trade Threats 
China warned that all commitments so far in talks with the U.S. over trade will be withdrawn if the president carries out his threat to impose tariffs. While both the U.S. and China reported some progress in discussions at the weekend about how to reduce China's $375 billion goods-trade surplus with the U.S., President Donald Trump's revival last week of a plan to slap tariffs on $50 billion of Chinese imports has thrown the talks into turmoil. "If the U.S. rolls out trade measures including tariffs, all the agreements reached in the negotiations won't take effect," state-run Xinhua News Agency reported Sunday, citing a statement from the Chinese team that met with a U.S. delegation led by Commerce Secretary Wilbur Ross. Meanwhile, Trump's economic adviser Larry Kudlow said China and those breaking trade rules are to blame, not the president. As a trade war looms, Trump is headed for a showdown with America's allies at a Group of Seven summit this week in Quebec, with the European Union and Canada threatening retaliatory measures unless he reverses course on new steel and aluminum levies.
Give Up Your Nukes 
North Korea will get relief from international sanctions only when it has shown irreversible moves toward denuclearization, U.S. Secretary of Defense James Mattis said ahead of a summit next week between Trump and North Korean leader Kim Jong Un. Speaking Sunday in Singapore at the start of a meeting with the defense ministers of South Korea and Japan, Mattis warned that "we can anticipate at best a bumpy road to the negotiations."
Coming Up … 
Interest rate decisions in India and Australia will be in focus in Asia this week, with both central banks expected to stay on hold. Chinese trade data is set to loom large with U.S. negotiators in Beijing. Inflation and credit numbers are also due. In Japan, the focus is on whether a revision to first-quarter GDP shows the economy extended a growth streak or stumbled, as preliminary data indicated. Elsewhere, Apple hosts its Worldwide Developers Conference on Monday in San Jose, where it will lay out its software strategy for the next year and tease future hardware ambitions.
Asia Futures Up
Asia stock futures are pointing higher after Friday's strong U.S. jobs numbers spurred an equity rally. Treasuries fell as the data all but guaranteed the Federal Reserve will hike later this month, with 10-year yields up above 2.9 percent. The dollar posted its seventh straight weekly gain, the best streak since 2014. The yen is up marginally in early trade, while the New Zealand and Australian dollar are little changed.
Bond Defaults
China's banks, scrambling to adjust to the government's deleveraging campaign, are likely to add to pressures on the corporate bond market as they shed more of their massive note holdings and de-risk their balance sheets. Further payment problems are likely in a market that has already seen at least 14 corporate bond defaults this year, according to Logan Wright, Hong Kong-based director at research firm Rhodium Group LLC. As well as cutting their own holdings, Chinese banks have pulled back from lending to other firms that use the funds to buy bonds, exacerbating the pressure on the market. 
What we've been reading
This is what caught our eye over the last 24 hours.
Before it's here, it's on the Bloomberg Terminal.
LEARN MORE