politics
Welcome to the Cage: Italy's Savona Lays Out His View of Europe
By
Economist Paola Savona will head new European Affairs Ministry

President had vetoed Savona for finance ministry on euro views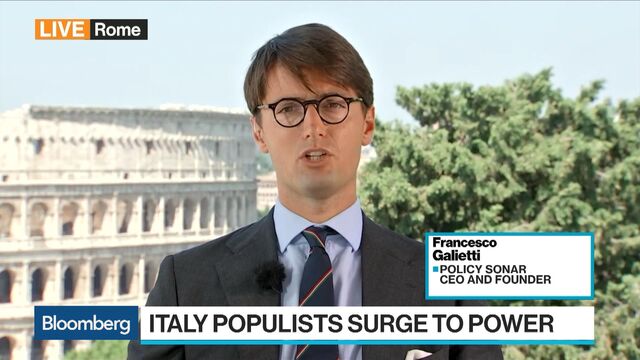 Italy's European Union partners have been warned. Euroskeptic economist Paolo Savona, 81, who'll be sworn in as Minister for European Affairs in the populist government on Friday, has laid out his views on the bloc he calls "the European cage," the euro, German Chancellor Angela Merkel and U.S. President Donald Trump in a new autobiography.
Savona's appointment as finance minister had been vetoed by President Sergio Mattarella because of his views on the single currency. Savona will head a full ministry, an official of the Five Star Movement said. The department had previously been led by a junior minister under the premier's authority. Savona will be given a free hand to rediscuss EU treaties, newspaper La Repubblica reported. Here are extracts from the book, entitled "Like A Nightmare And Like A Dream," published May 24:

Nazi Legacy
On Germany's economic policy: "Germany hasn't changed its vision of its role in Europe after the end of Nazism, even if it has abandoned the idea of imposing it militarily."
Euro Plan B
On his appeal to Italian governments to prepare for a possible euro exit: "I've never asked to leave the euro, but to be prepared to do so if, for whatever reason, we were to be constrained willingly or unwillingly (the Plan B I have mentioned.) I believe that leaving the euro involves difficulties as serious as those we have been through, and will go through to remain."
"The authorities have the duty to prepare and carry out two different plans, one necessary for remaining in the EU and in the euro, and another to leave if the accords don't change and the negative effects increase."
Purchasing Power
"What a euro could buy when it was launched, now needs two euros, a situation which authorities are denying; they call these calculations an inflation that is just 'perceived'."
Trump vs Merkel
When Germany was criticized by Trump for its trade surplus with the U.S., "Merkel's answer should have been that the sermon came from the wrong pulpit, from a country that lives permanently above its own means because of a malformed international monetary system."
Populism
On "the Franco-German axis" which he says forced Silvio Berlusconi to resign as premier during the 2011 debt crisis: "It was an undemocratic act typical of the philosophy that dominates the European Union's action, in line with the idea that 'enlightened' leaders are capable of choosing better than the people who should govern them."
"If the people rebel, they say, it means the people are embracing populism -- dismissing with a label a serious problem that stems from their inability to govern complexity."
Before it's here, it's on the Bloomberg Terminal.
LEARN MORE