technology
NBA's Troll Kerfuffle Exposes Identity Gray Area on Twitter
By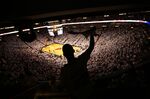 I can't look away from the Bryan Colangelo Twitter debacle roiling U.S. basketball. Even if you're not a fan, this crazy yarn is worth a read for what it shows about how we get information and decide what to think in the social-media era.  
This Tuesday, in the middle of the basketball playoffs, sports and pop-culture site The Ringer dropped a wonderful piece of internet sleuthing: Reporter Ben Detrick assembled a compelling case that Colangelo, general manager of the Philadelphia 76ers, maintained a network of anonymous troll Twitter accounts to snipe at players and defend himself against online criticism.
Reddit is going crazy. One of Colangelo's purported tweets is quickly turning into a running joke. Someone tweeted about Colangelo, "This dude just loves collars." Then one of Colangelo's purported anonymous accounts replied, "That is a normal collar. Move on, find a new slant." The Philadelphia 76ers organization is investigating. 
This isn't even the National Basketball Association's first Twitter troll kerfuffle. Golden State Warriors star Kevin Durant had to apologize last year for attacking former teammates in an odd third-person tweet. Most people think Durant intended to post the trash talk to an anonymous account but instead accidently posted it to his own account. (Durant has denied that was the goal.)
Outside the NBA, Roseanne Barr got her show canceled this week because she wrote a racist tweet about Valerie Jarrett, a former top adviser to President Barack Obama. After Barr blamed her tweet on the sleeping pill Ambien, the drugmaker tweeted, "While all pharmaceutical treatments have side effects, racism is not a known side effect of any Sanofi medication."
In the Trump era, that Twitter is core to so much of our public discourse is no longer surprising -- even if the micro-aggression service was particularly potent this week. But it nestles in a digital gray area that's being exploited by untold numbers of spin doctors.
Reddit, which recently passed Facebook to become the third-most popular U.S. website, is an anonymous free-for-all -- but you know what you're getting. Facebook doesn't have airtight real name requirements (see: How Fake Mark Zuckerbergs Scam Facebook Users Out of Their Cash), but you usually know who you're interacting with. "Reddit is strangers amusing me. Facebook is people I know pissing me off," one anonymous commenter wrote.
On Twitter, the chatter feels like the real conversation that's happening in the world, but, of course, it's not representative at all. (Read this genius piece that argues why Twitter has hit its "invisible asymptote," maxing out on the size of its user base.)
The fact that celebrities think seeding the conversation on Twitter in their favor is worth their time, validates the thinking behind Russia's social-media campaign to influence the 2016 U.S. presidential election. If Colangelo thinks he needs to frame the Twitter conversation about him, then I can see why an entire government thought it might be effective.
Maybe Colangelo's alleged behavior is more about vanity than strategy. But the point stands: The conversation online matters to people, even if they don't really know anything about the person doing the talking. On the internet, nobody knows you're a dog -- and you don't know that it's a dog telling you what to think either.
It's not just Russians we need to worry about. The internet has become the essential way we get social cues about what our fellow citizens think about the issues of the day. I'm not going to my neighborhood church get a read on my fellow San Franciscan. I'm checking Twitter, Reddit and Facebook to see what people are opining about. These services need to do a better job helping us to get a sense of who we're talking to, anonymous or not.
This article also ran in Bloomberg Technology's Fully Charged newsletter. Sign up here.
Before it's here, it's on the Bloomberg Terminal.
LEARN MORE