markets
Rajoy or Not, Spain Bonds Not the Same Kettle of Fish as Italy
By
Spain's debt proven more resilent to growing political risks

Economic backrop more supportive in Spain: Mizuho's Chatwell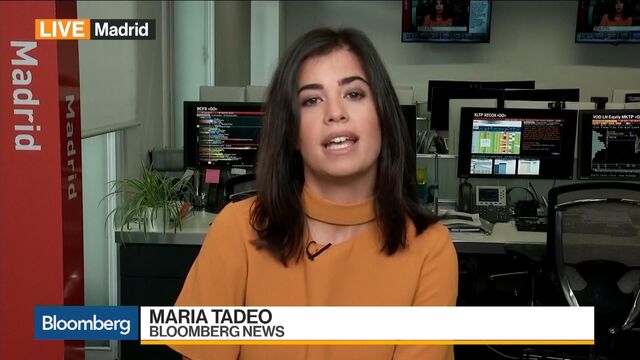 There are crises and then there are some.
Spain is being rocked by a corruption scandal that threatens to bring down Prime Minister Mariano Rajoy's government, but investors aren't reaching for the panic button -- as they did in Italy. For one, there is no perceived risk of Madrid seeking to leave the euro bloc, and the Spanish economy is in much better shape.
Italy still faces the possibility of a euroskeptic government or, you guessed it, the likelihood of another vote.

Spain's economy is expanding at 3 percent and any risk of Catalonia seceding, which saw the nation's borrowing costs increase last year, has also faded. In contrast, Italy is grappling with sovereign debt equivalent to 130 percent of gross domestic product and growth trundling along at 1.4 percent on the year. Indeed, Spain's bonds have remained far more resilient than those of Italy, which went into meltdown Tuesday.
"Tail-risk trades are still relevant in Italy over the summer, while in Spain what we have is some political uncertainty into what it likely to remain a very strong economy," said Peter Chatwell, head of rates strategy at Mizuho International Plc. "The downside in Spain is overdone."
While Italian 10-year yields are still 31 basis points up from the end of last week at 2.77 percent, similar rates in Spain are just three basis points higher at 1.50 percent.
"As far as Spain is concerned, we think the current political uncertainties, not at all related to any anti-euro sentiment, just arrived at a bad time," said Fabrizio Quirighetti, chief investment officer at SYZ Asset Management. "We have very low or little exposure to Italian government bonds, are neutral on Spain and overweight in Portugal."
— With assistance by Cecile Gutscher
Before it's here, it's on the Bloomberg Terminal.
LEARN MORE