business
WPP Chairman Gains Crucial ISS Backing Over Sorrell's Departure
By
Shareholder group: Absence of disclosure doesn't imply failure

Sorrell left as good leaver and could have up to 1.65m shares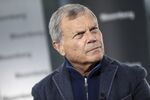 WPP Plc Chairman Roberto Quarta received a major boost Wednesday after the influential adviser Institutional Shareholder Services broadly accepted the way he dealt with the controversial departure of the advertising company's founder Martin Sorrell.
Sorrell, who on Wednesday launched a new company in London, quit WPP in April following allegations of possible misuse of company funds. He has denied any wrongdoing.
The claims were investigated by an outside law firm, but the conclusions haven't been made public. Two shareholder advisory firms, Pensions & Investment Research Consultants and Glass Lewis, recommended investors vote against Quarta at the upcoming annual general meeting.
However, ISS, which normally can count on influencing as much as 25 percent of the votes at a British stockholder meeting, takes a different view. It acknowledged concerns about the lack of transparency in Sorrell's departure, but said that in itself doesn't "imply an underlying failure in governance."
It recommends support for Quarta's re-election.
If more than 50 percent of investors oppose Quarta's re-election he would have faced pressure to resign, although any such vote wouldn't be binding on the company.
Sorrell Returns to Ad Business Six Weeks After WPP Ouster
"We harbor concerns as to the transparency and efficacy of the succession process," Glass Lewis said earlier this month. "Our concerns are heightened by the opaque nature of the investigation into Sorrell," it added.
Before it's here, it's on the Bloomberg Terminal.
LEARN MORE