markets
U.S. First-Quarter Growth Revised Down to 2.2% on Inventories
By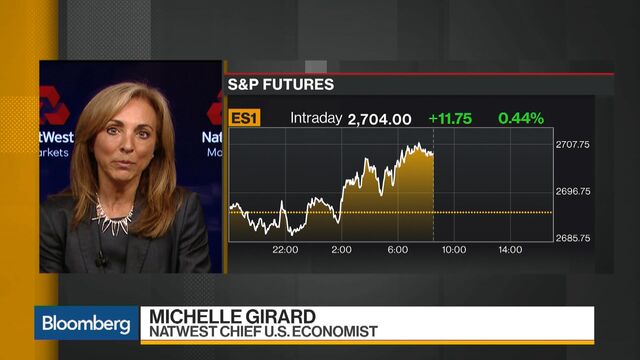 The U.S. economy grew in the first quarter at a slightly slower pace than previously estimated, while tax cuts gave a significant boost to corporate profits, according to Commerce Department data released Wednesday.
Highlights of First-Quarter GDP (Second Estimate)
Gross domestic product grew at a 2.2% annualized rate (est. 2.3%), revised from 2.3%
Consumer spending grew 1% (est. 1.2%), revised from 1.1%; slowest gain in almost five years
Downward revisions led by inventories, net exports, consumer spending on health care; figures for motor-vehicle spending, intellectual-property investment revised upward
Corporate pretax profits rose 4.3% y/y and fell 0.6% q/q, in the first estimate issued for Jan.-March quarter and following 2.7% y/y rise in 4Q; after taxes, profits rose 14% y/y amid boost from new tax-cut law
Key Takeaways

Consumer spending, which accounts for about 70 percent of the economy, was revised downward due to smaller contributions from services. At the same time, another key gauge of the economy was better than previously reported: Final sales to domestic purchasers, which strip out trade and inventories -- the two most volatile components of the GDP calculation -- advanced 1.9 percent, revised up from 1.6 percent.
The first quarter typically is influenced by seasonal quirks. Household purchases and economic growth are projected to rebound in the April-June period amid bigger after-tax paychecks and the strong job market. However, a sustained and more pronounced rise in fuel costs would potentially restrain gains in consumer spending and business investment.

The report included the first look at corporate America's earnings in early 2018, indicating a big impact on companies' bottom lines from the Republican-backed tax cuts that took effect Jan. 1. While the pretax annual gain was in line with recent quarters, the after-tax increase was the biggest since late 2016, as a cut in the tax rate to 21 percent from 35 percent resulted in a $117.4 billion quarterly drop in corporate income taxes.
Price data showed inflation was slower than previously estimated. Excluding food and energy, the Federal Reserve's preferred price index that is tied to personal spending rose at a 2.3 percent annualized rate, revised from a previously- estimated 2.5 percent pace. The central bank targets 2 percent annual gains in the gauge including all items.
Other Details

Nonresidential fixed investment -- which includes spending on equipment, structures and intellectual property -- increased 9.2 percent, most since 2014; revised from 6.1 percent
Spending on business equipment rose 5.5 percent, revised from 4.7 percent gain; intellectual-property investment jumped 10.9 percent, up from previously reported 3.6 percent
Residential investment fell at a 2 percent rate, revised from unchanged
Net exports added 0.08 percentage point to GDP growth, revised down from 0.2-point boost; inventories added 0.13 point, less than the previously-reported 0.43-point lift
First-quarter wages and salaries were revised up by $3.1 billion to $119.5 billion gain; included $10 billion upward adjustment reflecting bonuses reported by companies in response to new tax law
Gross domestic income, adjusted for inflation, rose 2.8 percent in the first quarter, following 1 percent in the previous three months
GDP report, representing the value of all goods and services produced in the U.S., is the second of three estimates for the quarter before annual revisions in July
— With assistance by Chris Middleton
Before it's here, it's on the Bloomberg Terminal.
LEARN MORE