politics
Here's Where Things Stand on the Trump-Kim Summit
By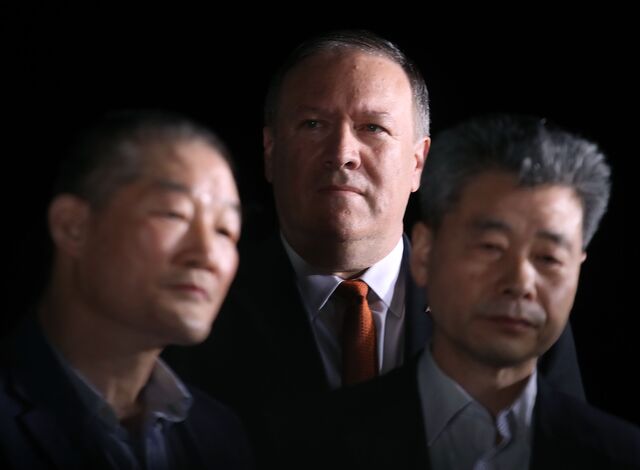 The U.S. and North Korea are pushing to salvage a summit between Donald Trump and Kim Jong Un planned for June 12 in Singapore.
As of Friday morning in Asia, it appeared likely to go ahead. Trump remained optimistic, telling reporters that talks with North Korea were "going along very well." He also floated the possibility there could be two meetings with Kim or none at all. In a meeting with Russian Foreign Minister Sergei Lavrov, Kim said North Korea remains committed to denuclearization of the Korean Peninsula and said he hoped it would "be solved on a stage-by-stage basis."

The latest developments:
Trump plans to meet Friday with Kim Yong Chol, North Korea's former spy chief, who is carrying a letter from Kim Jong Un. Our latest wrap is here.
Secretary of State Mike Pompeo declined to say if the U.S. bridged key differences over North Korea in a meeting with Kim Yong Chol, saying "there remains a great deal of work to do."
Ministers from South Korea and North Korea were meeting at their border to discuss implementing a peace road map their leaders agreed to in April.
How we got here:
Kim Jong Un announced late last year he had obtained the ability to strike the U.S. with a nuclear weapon, and soon after sought talks with South Korea on participating in the Winter Olympics. The moves defused immediate threats of military action by the U.S.
In March, Trump stunned the world by agreeing to meet Kim after South Korean officials told the U.S. president that North Korea would suspend missile and nuclear tests, tolerate American military drills and move toward denuclearization.
On May 10, Trump announced that he would meet Kim on June 12 in Singapore. Two weeks later he canceled the meeting in a letter to Kim, citing "open hostility" from North Korea. After North Korea issued another statement praising Trump, he later indicated the summit could take place as previously scheduled.
Key events that may impact the summit:
June 1: Trump meets North Korea's Kim Yong Chol at the White House
June 1: Inter-Korean talks take place at the DMZ
June 1-3: Singapore hosts annual meeting of defense ministers
June 2-4: Commerce Secretary Wilbur Ross heads to China for trade talks
June 7: Japanese Prime Minister Shinzo Abe heads to White House
June 8-9: Group of Seven nations meet in Canada
June 9-10: Shanghai Cooperation Organization summit in China
June 12: Planned date of Trump-Kim meeting
Read these stories for more context:
Before it's here, it's on the Bloomberg Terminal.
LEARN MORE