business
Egypt Discovers If It Cuts the Red Tape, Investors Will Come
By
More than 20-fold increase in new licenses since June 2017

Government still struggling to bring in foreign investments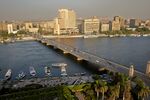 Egypt's efforts to attract new businesses, following sweeping reforms, appear to be paying off, with a twenty-fold surge in the number of new industrial licenses issued since laws were changed a year ago, according to a top official.
Since June 2017, authorities have cut the maximum time it takes to approve a permit to 30 days compared to an earlier average of nearly two years, said Ahmed Abdel-Razek, chairman of the Industrial Development Authority. The authority has issued 8,400 licenses versus 340 the year before.
To attract more interest, the authority also plans to offer about 30 million square meters (323 million square feet) of land for industrial purposes through 2020, compared to 9.5 million square meters from 2007 to 2016.
"A lot of existing investors are expanding, and many foreign investors started to enter the Egyptian market after they found a good investing environment," Abdel-Razek said in an interview at his office in Cairo. "Half of the requests for land on my waiting lists are by foreign investors."
Egypt Shifting Focus to Private Investments as Growth Driver
The surge in new licenses being issued comes as Egypt pushes ahead with a sweeping program to overhaul the economy. A 2016 decision to lift currency restrictions and cut fuel subsidies was heralded by the International Monetary Fund, which finalized a $12 billion loan for Egypt that paved the way for an influx of foreign money.
In tandem with that move, the government worked to cut bureaucratic red tape that had left investors grumbling.
While the reforms have begun to boost growth, and a spike in inflation that followed the currency float has since eased sharply, officials are seeking to bring in more foreign investments, with much of the money so far being funneled into the local debt and stocks markets.
Net foreign direct investment dropped to $3.8 billion from July to December 2017, from $4.3 billion a year earlier, while net inflows to the capital markets surged to $8 billion compared to $213 million the previous year, according to the central bank.
Before it's here, it's on the Bloomberg Terminal.
LEARN MORE