markets
Bad Hurricane Seasons Could Become a Norm
By
Intense storms could hit East Cost with higher frequency

Research this week also analyzes taxes, education, inflation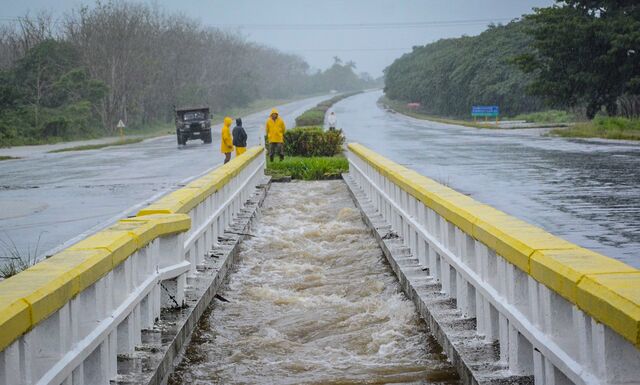 Crazy storm seasons may become matter-of-course.
An analysis by the Bank of England's Insurance Division shows that major hurricanes are becoming more common, so projections for the future may need revisiting. That's the lead item in this week's economic research roundup, which also takes a look at consumers' attitudes toward the U.S. tax overhaul, the impact of school air conditioning, and the distributional fallout from higher inflation.
Check this column each Tuesday for summaries of new economic research from around the world.
Storm Warning
U.S. Hurricane Clustering: A New Reality?
Published May 22, 2018
Available on the Bank of England website
As subtropical storm Alberto kicks off this year's Atlantic hurricane season by drenching the American South, the Bank of England's Alex Ntelekos, Dimitris Papachristou and Juan Duan have a warning to offer about U.S. hurricanes: The really bad ones may be more common in the future. While 2017 was one of just six seasons in 168 years to see multiple Category 5 hurricanes, it may be "closer to the norm" because the frequency of major hurricanes has increased in the past three decades.
While the chance of three or more major hurricanes hitting the East Coast in any given year is tiny in historical data stretching back to the 1950s (1-in-450 probability), it climbs substantially when the sample is restricted to the past 30 years, becoming a 1-in-180 probability event, based on their analysis. That "falls within the spectrum of risks that insurance firms typically model and expect to be able to withstand."
"Given these trends, insurers, in particular, need to consider the operational, economic and risk management impact of the assumptions made when modeling hurricanes," they write.
Weekly (Demo)graphic: Great Expectations
Mixed Impacts of the Federal Tax Reform on Consumer Expectations
Published May 23, 2018
Available on the New York Fed website
Federal Reserve Bank of New York analysts are analyzing how the Republican tax cuts approved last year have shifted individuals' expectations about their financial situation, and they've come away with a few notable findings. Consumers are more optimistic than pessimistic about what it means for them, as the chart above shows. Consumers making more than $75,000 were more optimistic than their lower-income counterparts, and households are more positive about how the changes will impact other households, versus their own.
Making School Cool
Heat and Learning
Published May 2018
Available on the NBER website
It's easier to learn in an air-conditioned classroom. Without air conditioning, each 1 degree Fahrenheit increase in school-year temperature cuts the amount learned by 1 percent, a National Bureau of Economic Research working paper shows. The authors looked into this because hotter counties tend to score lower on academic achievement measures, and they wanted to see whether that was cause or simply correlation.
To do so, they linked local daily weather data and the test scores of 10 million American students from the high school classes of 2001 to 2014 who took the PSAT standardized exam multiple times, so that they can look at variation in temperature over multiple attempts. Only school-day exposure to higher temperatures affects test scores, and school air conditioning appears to offset pretty much all of the damaging impact. While most schools in hot places (think Texas) are fully air-conditioned, that's not true of schools in cooler Northeastern climes that may still have hot days.
Different Paycheck, Different Prices
Price Stickiness Along the Income Distribution and the Effects of Monetary Policy
Published May 2018
Available on the NBER website
The prices of goods consumed by high-income households are less volatile over time than goods consumed by folks lower down the income scale, University of Michigan economists find in a working paper. In fact, inflation of high-income households responds about 22 percent less to the same monetary policy shocks as those of middle-income households.
This is crucially important for monetary policy makers, because it means that if inflation gets out of hand, it will hurt less-affluent consumers more. Critics occasionally take the U.S. Federal Reserve to task for raising rates, since doing so could put the brakes on the economy and choke off the jobs recovery. Fed officials like to emphasize that poorer families could pay more should inflation get out of hand, and this finding backs them up.
Before it's here, it's on the Bloomberg Terminal.
LEARN MORE