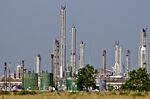 Benchmark prices for liquefied natural gas are set at a handful of major global trading hubs, all in the U.S. and Europe. That's a problem for the world's four biggest consumers, which are all in Asia. Efforts are underway to create LNG hubs in Asia with their own benchmarks. It's not quite as straightforward as it sounds.
1. Why does Asia care where LNG prices are set?
The prices can gyrate based on supply and demand where the hubs are located. So if it's unexpectedly cold in Britain, prices of contracts tied to the U.K.'s NBP may rise, potentially making LNG more expensive in China or South Korea. Becoming a hub allows a country to discover the best price based on local demand and supply.
2. Where are the world's main gas hubs?
Henry Hub, a network of 11 interconnected pipelines in the U.S. state of Louisiana, serves as the basis of the world's biggest natural gas futures contract, on the New York Mercantile Exchange. A producer can send gas to the hub on one pipeline then sell and transfer it via another pipe to power plants or LNG terminals. With so many connections, traders can be confident they will always find a buyer or seller, helping to establish the price as a benchmark for much of U.S. trade. The National Balancing Point in the U.K. and the Title Transfer Facility in the Netherlands are so-called virtual hubs, meaning they can't be pinpointed to a specific place on a map. Rather, these hubs encompass all the gas in each country's network of pipelines at any given time. The Intercontinental Exchange Inc. hosts popular futures contracts based on the NBP and TTF hubs.
3. Which countries want to set up hubs?
Japan, the world's biggest LNG consumer, is keen. So is China, the No. 2 buyer, where a natural gas exchange is reportedly planned for Chongqing with support from the state energy giants and local government. Singapore, a trading center that consumes little LNG, wants to develop a local pricing benchmark. Then there's India, where the energy regulator is making moves to develop an exchange by the end of the year.
4. What's so hard about creating a hub?
Yury Sentyurin, secretary general of GECF, says a successful gas-pricing hub needs a wholesale natural gas market, free and unregulated trade of the fuel, separation of transport and commercial activities for gas, large gas transportation network capacities and a large number of market participants. All of the Asian hub aspirants fall short on at least one of those criteria. Singapore, for instance, has a sufficiently liberalized and competitive market but "falls down on the number of market players -- only 11 shippers, and these are mixture of buyers and sellers -- and the size of the market -- too small to develop enough market players with sufficient volumes to trade," according to a recent paper by Mike Fulwood, a researcher at Columbia University's Center on Global Energy Policy.
5. Could Asia have a virtual hub?
This might be the best hope for Asian buyers, at least in the short term. "They essentially serve the same purpose in that they are all 'meeting points' or market centers at which parties can buy and sell gas with the title transferring between them," Fulwood writes. There's clearly some interest in Asia-based gas contracts. Singapore Exchange Ltd. has created three price indexes for Asian LNG buyers, and ICE has seen surging trading activity for its futures contract based on the Japan-Korea spot price of LNG, as assessed by S&P Global Platts. Open interest for the contract at the end of April was 16,366 lots, more than three times the level of a year ago. To be sure, there's still a long way to go. Open interest for Henry Hub gas futures was at 1.4 million contracts.
The Reference Shelf
Before it's here, it's on the Bloomberg Terminal.
LEARN MORE