politics
As Politicians Bicker, Cash Crunch Has Tunisia Looking Abroad
By and
Ruling coaltion fails to reach deal on reform document

Central bank says time right to go to international market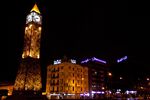 Tunisia's central bank said the time is right to look to international markets to ease a deepening cash crunch, as the government is deadlocked on an economic reform plan.
In a statement Monday, the bank said economic and financial indicators make it "appropriate to turn to the international financial market to meet financing needs, especially in light on increasing pressure on foreign currency assets." The bank also held the benchmark interest rate at 5.75 percent.
The decision to seek international financing came as the presidency suspended debate over a package of reforms meant to revive the economy. Foreign reserves have slumped to cover just 76 days of imports, and inflation climbed in April to a 25-year peak. At the same time, Prime Minister Youssef Chahed's government has struggled to cut costs for fear it will stir further unrest in a nation seen as a rare Arab Spring success story.
The 64-point reform program was first introduced by President Beji Caid Essebsi in 2016. The main sticking point in the latest round of talks among the Islamist Ennahda Party, the secular Nidaa Tounes and powerful unions was whether to fire Chahed or opt for a limited reshuffle.
Tunisia's Dinar Must Weaken Further to Boost Economy, IMF Says
In the absence of an approved reform plan, the government has focused its efforts on cutting spending and gradually weakening the currency. The International Monetary Fund, which in 2016 awarded Tunisia a $2.9 billion loan, has backed those efforts.
Tunisia has said it expects to secure the fourth installment of the IMF loan in June.
— With assistance by Tamim Elyan
Before it's here, it's on the Bloomberg Terminal.
LEARN MORE