politics
Trump Risks Kim Wager in Trademark Bombshell
By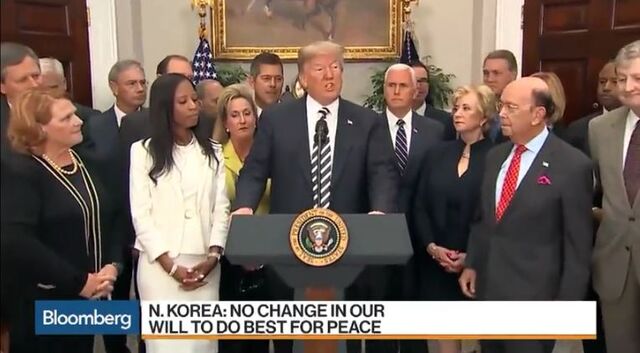 Want to receive this post in your inbox every morning? Sign up for the Balance of Power newsletter, and follow Bloomberg Politics on Twitter and Facebook for more.
Donald Trump bet big and it's looking like he might lose.

The U.S. president staked his foreign policy reputation on securing a denuclearization deal during a sit-down with North Korean leader Kim Jong Un, even going so far as to suggest obliquely that he should receive a Nobel Peace Prize.

That was before Trump abruptly canceled the June 12 summit in Singapore after weeks of he and Kim talking past each other on their goals. It was a bitter lesson for the White House and further evidence for Trump's critics who say the president's much-touted deal-making skills are overhyped.

U.S. officials insist they're optimistic the encounter will happen, eventually, and a slower pace might work to Trump's advantage by giving him more time to prepare. North Korean Vice Foreign Minister Kim Kye Gwan says his country remains willing to meet, though there's a risk Pyongyang tires of being beholden to Trump's mood swings.

Trump has always led from the gut. The scrapped summit, coupled with his recent head-snapping moves on trade, made without much consultation with allies overseas or in Congress, suggest a White House that, more than a year into his term, is still winging it on almost every major issue.

Global Headlines
Turbulent trade week | Over five days, the U.S. called off a trade war with China, cast doubt over the framework of talks with Beijing, and threatened tariffs on car and truck imports to protect national security. There's no sign things will get much calmer. Andrew Mayeda takes a closer look at the evolution of Trump's volatile trade policy.

Fantasy island | The mood has soured again between the U.K. and the European Union, with talks stalled over how to prevent a hard Irish border after Brexit. One EU official called Britain's "confused" plans a "fantasy," with only five weeks to go before a critical summit. It's a blow to Prime Minister Theresa May, who's struggling to move Brexit forward under pressure from bickering factions in her Tory party.

Abortion vote | Ireland appears set to liberalize some of Europe's most restrictive abortion laws when it votes today on removing a constitutional ban on pregnancy terminations in most circumstances. Bookmakers' odds suggest the proposal will pass in what may represent the nation's most decisive break yet with its Roman Catholic roots.

EU's data crackdown | The world's most far-reaching data privacy regulation came into force today on organizations from tech giants like Facebook and Google to governments and banks. Years of planning and billions of emails have gone into the European Union's rules on processing personal digital information, known as GDPR, which will slap companies with hefty fines — as much as 4 percent of worldwide annual sales — for serious violations.

Brazilians' lack of trust | A four-day truckers' strike over surging fuel prices revealed the weakness of President Michel Temer's government as it limps into its last six months in office. It's also highlighted deep public discontent with market friendly policies, with Eurasia Group analyst Silvio Cascione commenting, "this social stew doesn't bode well for reformist candidates."

What to Watch
Russian President Vladimir Putin speaks with French President Emmanuel Macron, Japanese Prime Minister Shinzo Abe, Chinese Vice President Wang Qishan and IMF Managing Director Christine Lagarde at a panel chaired by Bloomberg's editor-in-chief, John Micklethwait, in St. Petersburg, Russia, at 2 p.m. Local time. Follow our TOPLive blog here.
 
And finally ... The iconic image of a British spy, James Bond, is getting a real-world update. MI6 is focusing on recruiting mothers, for their emotional intelligence, and ethnic minority candidates, challenging the concept of a martini-swilling, gun-toting womanizer in a tux. The reason is simple — The changing nature of the security threat calls for a more diverse workforce with different skills. Or as the agency's Chief Alex Younger put it: "We want different points of view when making the crunchy decisions."

— With assistance by Stuart Biggs
Before it's here, it's on the Bloomberg Terminal.
LEARN MORE