business
Help to Buy: Five Experts on Its Impact on U.K. Property Market
By and
Program allows buyers with small down payments to own a home

Government has backed almost 40 billion pounds of purchases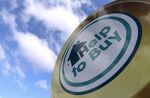 Homebuilders are warning that the withdrawal of cheap home loans that stoked London's property boom in recent years would disrupt the market.
The Help to Buy Equity Loan commenced in 2013 and enables borrowers to take out a mortgage with a down payment of as little as 5 percent. The surge in prices that followed its introduction prompted Bank of England Governor Mark Carney to call the housing market the No. 1 risk to the economy in 2014. Regulators have since introduced affordability checks and limits on high loan-to-income lending.
London housing: Read about why building homes in London is difficult
Under the program, the state gives an interest-free loan of as much as 40 percent of a new home's cost for five years in return for a stake in any increase in the property's value over the period. The home must cost 600,000 pounds or less. Although Help to Buy is currently slated to end in 2021, it could be extended or amended.

Bloomberg News asked five market commentators about the policy's impact and its future:
John Tutte, chief executive officer at homebuilder Redrow Plc:
"About 80 percent of Help to Buy are first-time buyers, and I don't believe there has been a time in history where first time buyers haven't needed some kind of support. Before the recession, people were getting 100 percent mortgages and overstretching themselves. If you want people to have sensible mortgages, Help to Buy works well. From a buyers' perspective, it has helped them enormously and, from the government's perspective, it has boosted output. It is currently funding around 40,000 home purchases a year, so I don't think anyone in their right mind would pull the plug and expect the market to sort itself out immediately. I would question in London whether it should be as high as 40 percent."
Peter Redfern, CEO of the U.K.'s second-largest homebuilder, Taylor Wimpey Plc:
"We've always said it should not be a permanent, long-term part of the market. Our base case is that it is extended, but with some changes, after 2021. For example, you could reduce, in stages, the percentage contribution that Help to Buy makes to individual homeowners so that there isn't a 'cliff edge.' Instead, there would be a gradual withdrawing of it, limiting the resulting impact on the market. Another possible change would be to reduce the price limit."
Savvas Savouri, chief economist, Toscafund Asset Management LLP:
"I've never liked distortions to markets. I always found that -- whether it is quantitative easing or Help to Buy -- at some point it has to end and the distortions that are caused will inure themselves. The simple answer is there was never a fundamental problem with the U.K. property market that needed correcting. There will be a hangover or a coming down but it will be localized. The fundamentals of demand and supply are still favorable."
Richard Snook, senior economist at PwC:
"People often quickly become reliant on support measures. While taking it away could have a negative impact, Help to Buy is quite expensive in its short-term cost. The other question is how easy will it be to sell these properties? We are coming to the point where the first people who purchased through Help to Buy will naturally be looking to become second-steppers. Whether they find they can sell these properties at market price remains to be seen. While the government is expecting to get most of its money back as the equity gets paid off, the complex ownership and cost arrangement might impact the properties' appeal and therefore the price it can achieve."
Tim Craine, founder of researcher Molior London:
The program "increased sales velocities dramatically, to the benefit of developers and buyers whose ability to purchase had been constrained. Help to Buy gave them access to loans they would not normally have been granted. Some sales directors have said that without Help to Buy, it would be like 2008 all over again, when buyers simply evaporated. Prices would come down, which means that new developments wouldn't start as builders wouldn't commence work in a falling market. Also, developments wouldn't be able to support as much affordable housing as the quantity you can provide depends on the profit you can make."
Before it's here, it's on the Bloomberg Terminal.
LEARN MORE