business
Half of German Adults Don't Know Who Mario Draghi Actually Is
By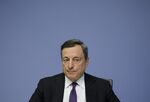 German dissatisfaction with European Central Bank policies might be well documented, but many of the people there don't actually know who runs it.
In a speech on central banking "in times of complexity," Executive Board member Benoit Coeure said that there's limited financial literacy among European adults. A lack of name recognition of the ECB president in the region's biggest economy, where he and his institution are based, rather highlights the problem.
"In Germany, only one out of two people know who Mario Draghi is. Whether this is good news or bad news, I leave it to you. But it's a fact."
Citing a recent OECD report that showed "worryingly low levels of financial literacy around the world," Coeure said at a conference in Stockholm that this goes to the core of confidence in a central bank.
"If our citizens can no longer understand what it is we are doing, then they may no longer be sure that we are doing the right thing -- that we are pursuing our mandate within the limits we are given."
Before it's here, it's on the Bloomberg Terminal.
LEARN MORE