business
Stock Investors See Bigger Threat in China Than in North Korea
By , , and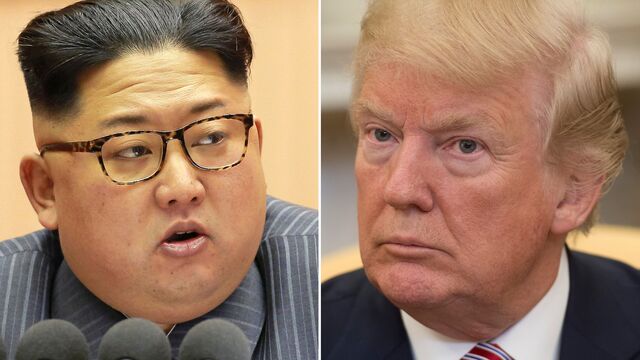 The stock losses that followed President Donald Trump calling off his summit with North Korean leader Kim Jong Un reflect concern about a cooling of relations with China as trade talks wear on, investors said. The S&P 500 fell as much as 0.95 percent and was trading at 2,723 at 12:01 p.m. in New York, down 0.4 percent.
Craig Hodges, chief investment officer at Dallas-based Hodges Capital: "I think it's more of a China thing, personally. When you saw the original rhetoric from the president about 'Rocket Man' and the negotiations when they weren't going very well, you didn't see much of an impact on the markets at all. But I think when China got involved and everyone realized the influence that China has there, that it became almost a China story. It only complicates it on a short-term basis."
Chad Morganlander, Florham Park, New Jersey-based fund manager at Washington Crossing Advisors: "North Korea is a smaller component of the concern -- the overriding concern is China and the questions about tariffs. The administration was tying the U.S.-China trade negotiations with North Korea and a broader policy shift. For some investors, this is a disappointment, and they believe this lowers the odds of an improvement in the relations between the U.S. and China."
Randy Hare, director of equity research of Huntington Private Bank in Cincinnati: "There is more uncertainty around no meeting than uncertainty around a meeting. When communication breaks down, that tends to spook investors a little bit. But I wouldn't call it a big reason for alarm. We have somewhat negative sentiment over the past few days. The big issue for the market right now is trade and the dollar. We need to see the uncertainty go away."
Quincy Krosby, the chief market strategist at Prudential Financial Inc.: "You see money going into the Treasury market and money going into gold. You would not have gold being a safe haven trade if it was just about trade. That's typically related to geopolitical issues. The question for the market is, are there going to be more headlines like this?"
Jack Ablin, chief investment officer at Cresset Wealth Advisors. "It's not about just North Korea, the news has broader implications. It's not the canceled summit itself that investors are concerned about. If there is a sense that North Korea is off the table, then the odds of a trade war with China are heightened."
Before it's here, it's on the Bloomberg Terminal.
LEARN MORE