business
Deutsche Bank Chairman Says Cryan Was Done Even Without Leaks
By and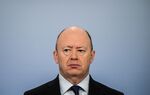 Deutsche Bank AG's John Cryan was through as chief executive officer even without the public debate that preceded his ouster, according to the lender's chairman.
Despite repeated prodding, Cryan didn't react quickly enough to demands that he be tougher on costs and speed up decision-making, Chairman Paul Achleitner said at the bank's annual general meeting in Frankfurt on Thursday. Speaking to skeptical shareholders, the chairman defended his decision to oust the CEO who had brought the global investment bank back from the brink about 18 months ago.
"Our main criticism was that well-formulated plans and promised measures had not been executed with sufficient discipline or rigor," Achleitner said. "The public debate merely brought forward a discussion that a large majority of the supervisory board already regarded as unavoidable."
Cryan's departure had originally been planned for today's shareholder meeting, Achleitner said, adding that leaks to the media in late March about the search for a successor "did great harm" to himself and the former CEO. Christian Sewing, a Deutsche Bank lifer, ended up taking over from Cryan the following month.
Cryan said in a note to staff shortly before he left that he was "absolutely committed to serving our bank and to continuing down the path on which we started some three years ago." Chief Financial Officer James von Moltke hinted last month that the new CEO's cost-cutting measures to a large extent were a continuation of plans already being developed under Cryan.
Achleitner himself came in for criticism on Thursday.
"We don't think you've done a very good job and you just need to do better," Hans Christoph Hirt, head of Hermes EOS, which advises institutional investors in Deutsche Bank, said of the chairman in a Bloomberg Television interview. "Things need to improve rather quickly, particularly when you think about we need a clearly value-creating strategy that is implementable."
Before it's here, it's on the Bloomberg Terminal.
LEARN MORE