pursuits
There's an Official Melania Trump Orchid, and It's Winning Awards
By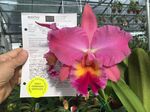 First Lady Melania Trump is back home at the White House, recovering from successful surgery for a benign kidney condition. Dictates of postmodern etiquette might warrant a Cecily Strong Saturday Night Live sketch, but classic manners call for flowers. In the case of Flotus, a simple bouquet, even an eco-friendly one, won't do; show some real class and send an orchid with her name on it—literally.
The Rlc Melania Trump is a fuschia-hued showstopper, a first-of-its-kind hybrid cattleya orchid. During its monthly competition over the weekend, the American Orchid Society honored the orchid with one of its coveted HCC (Highly Commended Certificate) awards. Judges, who rate specimens on as many as 15 criteria, scored the Melania at the top of the HCC range.

The five most popular types of orchids are paphiopedilum, oncidium, dendrobium, cattleya, and phalaenopsis. "And cattleyas are the most glamorous of all," says Arthur Chadwick, president of Chadwick & Son Orchids Inc., who raised the winning flower. "This variety was a fashion statement from the 1920s to 1960s. They're the most visually appealing, and they require significant care." 
This is no grocery store flower. Not just anyone can pick a pretty flower and call it "Melania."
First, it must be a scientifically original cross, like a Labradoodle but for plants. Rlc Melania Trump is a mash-up of two known orchids, Cattleya Bold Swan and Rhyncholaeliocattleya Chia Lin. Siblings include Eva's Tango Seductor and Rlc Farrah Fawcett (another Chadwick custom).

The name must be submitted to the Royal Horticultural Society and meet RHS's stringent nomenclatural standards. "And nothing happens until it blooms," says Chadwick. "You can't tell one from another based on the leaves. Grown from seed, an orchid takes seven years to bloom," so cultivating hybrids demands no small investment of patience, matchmaking, and constant Gregor Mendel-style experimentation.
It's only after the presidential candidates are announced that Chadwick takes stock of the various flowers he's been experimenting with and chooses ones fit for naming, hedging his bets by submitting orchids for both political parties. Having staggered the growth of multiple plants, he can insure that there are blooms open for whenever the White House press secretary is able to arrange a meeting. Prior to the Trump administration, Chadwick presented Michelle Obama with her own Cattleya, the Lc Michelle Obama in a range of lavender-hued blooms, in 2009.
The tradition of First Lady orchids originated in 1929 with the now-defunct Joseph Manda Orchid Co.'s Blc Mrs. Herbert Hoover. Long after the heyday of corsages, Chadwick & Son picked up the tradition in the 1980s to raise Flotus flowers, from the late Barbara Bush on. "When I looked at the tradition timeline," says Chadwick, "I noticed that two were missing: Eleanor Roosevelt and Lady Bird Johnson." So he decided to posthumously fill in the gaps and contacted their relatives to receive the gifts. 

"Linda Johnson Robb accepted Lady Bird's about 10 years ago. And I tracked down Anne Roosevelt, who, it turns out, is president of the Goodwill Industries of New England." The Rlc Melania Trump is being donated to the United States Botanic Garden—a repository of first lady orchids—and kept for permanent public display, but none will be available for private sale. You can, however, purchase your own custom cattleya: For $1,500, Chadwick & Son will name an orchid for you. 
"People have commissioned them for their spouses, dogs, grandmothers, you name it," he says. They've also been hybridizing for favorite colors, flower size, and even the exact time of year that the orchids bloom—say, to coincide with a special anniversary.

Take the Honky Tonk Woman, which was cloned by the thousands and shared around the world; one of its cultivators is Rolling Stones keyboardist Chuck Leavell. If you're eager to honor the queen to the King of Rock 'n' Roll, there's the Cattleya Priscilla Presley. And if an actual regal consort is more your speed, there's the Blc Princess Kate.
Meanwhile, the Bill Clinton flower remains in the greenhouse, right next to Teresa Kerry and Tipper Gore. "Every candidate who didn't make it," says Chadwick, "I've got their spouse's flower. The Ann Romney is a real stunner, too. My dad is heartbroken that it's never going anywhere."
Orchid Growing Pro Tips: 
Tropical rain means warm water. Cattleyas are native to the hot and sticky jungles of South America, not your condo's south-facing windows. "We pre-heat our water before we feed it to the orchids," Chadwick says. He also recommends keeping orchids outside all summer, as long as it's above 60F at night. "The air circulation and humidity will make them double in size," he says. What about the ice-cube-in-the-planter trick? "No, no, no!" 
Before it's here, it's on the Bloomberg Terminal.
LEARN MORE