economics
India's Budget Threat in Focus After Modi Loses Key State
By and
India's Budget Threat in Focus After Modi Loses Key State
By and
Spending on rural vote set to climb ahead of next year's poll

Budget deficit already under pressure as oil prices rise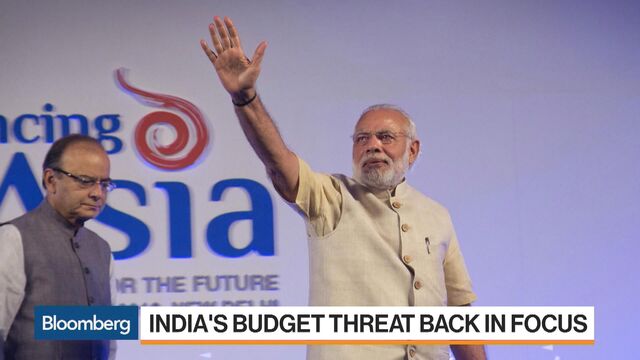 Prime Minister Narendra Modi's loss of control of a key Indian state will put pressure on his party to ramp up spending to woo more rural voters, pushing back plans to rein in one of Asia's largest budget deficits.
The budget was already under strain even before this weekend's events in Karnataka -- the southern state where Modi's Bharatiya Janata Party failed to form a government. The fiscal target was breached in the 2018 financial year, while the goal for this year was widened to 3.3 percent of gross domestic product.
Add to that a surge in oil prices, the currency's more than 6 percent slump against the dollar this year, and a pick-up in inflation, and India's outlook is starting to look gloomy.
"The Karnataka election is an additional source of uncertainty," said Suvodeep Rakshit, senior economist at Kotak Institutional Equities in Mumbai. While there's usually a risk of fiscal slippage in the year before elections, the rise in oil prices is worsening the picture, he said, forecasting a budget gap of 3.5 percent of GDP this year.
Bonds have taken a knock this year, fueled by wider budget targets, faster inflation and a global selloff of emerging market assets. Yields on the 10-year bond have climbed almost 50 basis points since the beginning of the year.
Pranjul Bhandari, chief India economist at HSBC Holdings Plc, said election pressures may prompt the government to cut excise duties rather than raise pump prices, pushing up the deficit. She estimates that for every $10 per barrel rise in global oil prices, the fiscal gap would increase by around 0.3 percent of GDP.
Election Battle
India's rural areas are home to about 68 percent of the nation's 1.3 billion people, and form a key voting bloc in the world's largest democracy. Modi has promised to increase the living standards of villagers and double farmers' income by 2022.
In the past six months, the BJP has faced stiff competition from the opposition Congress Party in Modi's home state of Gujarat and in by-elections in Bihar, Rajasthan and Uttar Pradesh. While the BJP won more votes in Karnataka than in the last election, it fell short of an overall majority.
The Congress, which is set to form a government in Karnataka with a regional party, is likely to announce programs to appease farmers. More and more states are already offering to write off farm loans.
"The stance of the central and various state governments will turn more pro-rural and possible freebies will mean macro will remain under pressure," analysts at CLSA India Private Ltd. led by Mahesh Nandurkar wrote in a note. "Rural support is the need of the hour for the government given that rural wage growth has been quite weak at 4-6 percent over the last four years."
Read: Indian Farmers Call Off Protest After State Bows to Demands

A recent working paper by the Reserve Bank of India shows growth in rural incomes have been decelerating in the past four years. That was partly due to two consecutive droughts in 2014-15 and 2015-16. In addition, the construction industry, which was booming during 2000-2012 and was a major driver of rural non-farm employment, had slowed down.
Economists at Nomura Holdings Inc. wrote in a report last week that they expect the BJP to focus on lifting rural incomes and alleviating farm distress in coming months given upcoming votes in states like Madhya Pradesh and Rajasthan and the 2019 general election.
Read: India Opposition Discovers Road Map to Defeat Modi in 2019
But authorities have a fine balancing act in boosting spending to farmers, while keeping the budget deficit under control.
"Doubling farmers' income is a big joke. That's not happening," said Ashok Gulati, a professor at the Indian Council for Research on International Economic Relations in New Delhi. "This is bound to have repercussions for the economy."
— With assistance by Ameya Karve, Subramaniam Sharma, and Subhadip Sircar
(
Updates with Nomura's view in 12th paragraph.
)