politics
Farm Bill's Future Hinges on Fight Over Limits on Immigration
By and
House Freedom Caucus uses leverage to advance its agenda

GOP leaders had offered June vote on immigration restrictions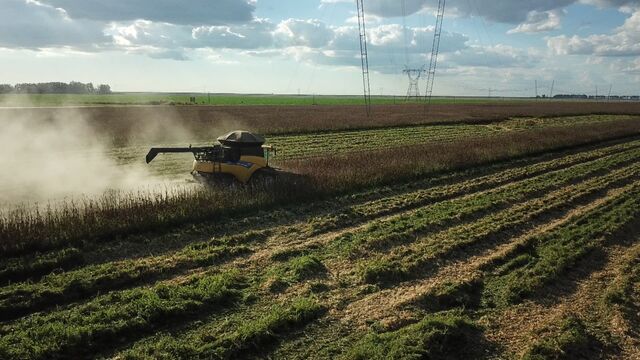 A fight over U.S. immigration policy -- not agriculture -- led to the demise of farm legislation on Friday.
The House's $867 billion farm bill had a narrow path to passage because Democrats opposed work requirements for beneficiaries of the measure's most costly program: food stamps. That left the bill's fate in the hands of a group of Republican lawmakers demanding new restrictions on legal immigration.
When the conservative House Freedom Caucus failed to win an immediate vote on immigration legislation that its members favor, some of them joined Democrats to reject the farm bill. The measure -- relied on by farmers and ranchers in many states dominated by Republicans -- would renew agriculture programs, including subsidies for farmers and government-backed crop insurers.
Whether the legislation is revived, perhaps as soon as next week, depends on how -- and if -- the immigration impasse is resolved, with either a revised bill that could attract Democrats or a GOP deal on immigration.
The 198-213 rejection of the legislation deepened divisions between the Freedom Caucus and other Republican lawmakers, especially those from rural districts. The vote also underscored House Speaker Paul Ryan's lame-duck status. He failed to wrangle enough Republican votes -- another indication that his influence has waned since he announced last month that he won't seek re-election in his Wisconsin district.
Sugar Battle
The bill, H.R. 2, had already survived an attempt to revamp a sugar program opposed by fiscal conservatives. Some lawmakers, with support from candy makers, unsuccessfully sought to eliminate production limits that keep sugar prices higher for growers.
Republican leaders said they thought they'd obtained support from the Freedom Caucus by agreeing to vote next month on legislation that would eliminate a diversity visa lottery and impose other limits in exchange for temporary protection for young undocumented immigrants, known as dreamers, who came to the U.S. as children.
But several Freedom Caucus members said they didn't trust the party leadership to hold the vote and instead want it to take place before the farm legislation.
"We've been promised a vote again and again," said Scott Perry, a Pennsylvania Republican and member of the caucus.
The caucus said one of its goals in blocking the farm bill was to force a vote on the immigration legislation they support before more moderate lawmakers can secure a vote on three competing measures, using a procedure called a discharge petition.
If at least 25 Republicans and all 193 House Democrats get behind the petition, that would force Ryan to schedule a vote on all four measures. Despite Ryan's opposition, 20 Republicans have signed the discharge petition so far, bringing the total number of lawmakers backing the effort to 196.
Core Concerns
The conservatives argue if the petition is successful, the result might be passage of immigration legislation granting permanent legal status to the young undocumented immigrants, which would anger core Republican voters.
Even as some in the party criticize what they see as wasteful farm-program and food-stamp spending, the massive bill is considered vital by many rural Republicans, and it's supported by President Donald Trump, who likes the work requirements.
The president was "disappointed in the result of today's vote," Lindsay Walters, deputy White House press secretary, said in a statement Friday.
The bill's failure will affect by farmers worried about declining profits who have already been disappointed by the Republican Congress and administration, said Representative Jodey Arrington, elected in 2016 to represent a swath of West Texas including Lubbock and Abilene. Current farm programs begin to expire Sept. 30 without new legislation.
"It certainly will leave a lot of ag producers scratching their heads about our Republican majority and moving these important pieces of legislation through the House," Arrington said.
Democratic Opportunity?
Some Democrats see an opportunity amid the Republican disarray, saying that if Ryan were willing to eliminate the new food stamp rules, they could help pass a bill.
"This is a good opportunity for us to return to the table and fix this bill before we move forward," said Representative Collin Peterson of Minnesota, the top Democrat on the House Agriculture Committee.
But throwing out the work requirements remains unlikely because they're backed by Trump and Ryan. Instead, Republican leaders signaled they might try to get the bill through the House on their own.
The House farm measure would shift some money from food stamp benefits to workforce training, while increasing the number of people required to comply with work requirements. Republicans say the requirements are needed to move food stamp recipients into jobs at a time of worker shortages. Democrats counter that the provisions would reduce benefits and increase paperwork without effectively getting people into the labor force.
Steve Scalise of Louisiana, the No. 3 House Republican, said leaders would continue to seek to address Freedom Caucus immigration concerns to get the farm legislation passed. "The farm bill is an important bill. We're not done with it," he said.
Any successful House bill would have to be reconciled with a Senate plan, which has yet to be drafted. Democrats hold more power in that chamber.
— With assistance by James Rowley, Jonathan Nicholson, and Anna Edgerton
Before it's here, it's on the Bloomberg Terminal.
LEARN MORE