politics
Turkey Sends Israeli Ambassador Home, Recalls Envoy From U.S.
By
Erdogan accuses Israel of 'genocide' after Gaza violence

Netanyahu says Turkish president is among main Hamas backers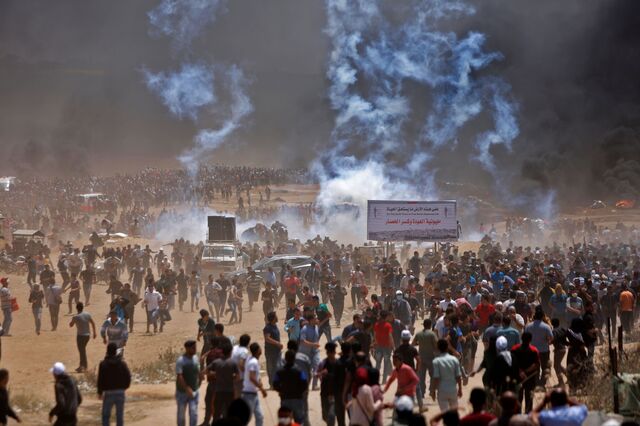 Turkey expelled the Israeli ambassador in Ankara and recalled its own envoys from Israel and the U.S., as President Recep Tayyip Erdogan denounced both countries over the killing of Palestinians protesting the American embassy move to Jerusalem.
The Foreign Ministry in the Turkish capital said it summoned Israeli Ambassador Eitan Na'eh on Tuesday and told him it would be appropriate to return home for a period. Turkey's envoys in Israel and the U.S. were recalled for consultations, the official Anadolu news agency reported late Monday, citing Deputy Prime Minister Bekir Bozdag.
Turkey will call for an emergency United Nations Security Council meeting over the violence in Gaza on Monday, when more than 50 Palestinians were killed by the Israeli military as they sought to storm the border barrier, Bozdag said. The protest was spurred by the opening ceremony the same day of a new U.S. embassy in Jerusalem, after President Donald Trump's controversial decision to recognize the city as Israel's capital and relocate the American mission from Tel Aviv, where almost all other countries have diplomatic representatives.
Turkey's ties with Israel, once a strategic ally, have deteriorated under Erdogan and relations with the U.S. have also been strained lately. The president has sought to position himself at the forefront of anger in the Islamic world at Trump's embassy move, and the recurring violence in Gaza. Yesterday he described the latter as "genocide."
Israeli premier Benjamin Netanyahu responded in a text message on Tuesday, saying that Erdogan "is among the biggest supporters of Hamas, and therefore no doubt understands terrorism and massacres well."
Before it's here, it's on the Bloomberg Terminal.
LEARN MORE