Vintage Watches
Nine Hidden Gems Unearthed at Sotheby's Sunday Watch Auction
Not everything needed to be a highlight to be a highlight.
By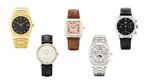 Originally published by Stephen Pulvirent on Hodinkee.
Auction season is now in full swing, and this past weekend the collector community descended upon Geneva for sales from Christie's, Phillips, Sotheby's, and more. If the November auctions tend to be the year-end blockbusters, it's the May sales that set the tone for the coming months, telling us what is hot and what is not. There were a lot of big-ticket watches getting tons of attention—the top lots from Daytona Ultimatum chief among them—but auctions can still be great places to find exceptional, unusual watches at fair and even aggressive prices. The days of totally swiping something at a mainstream auction are basically gone, but not everything has to carry an "I bought it at Such And Such and it came with a commemorative box" premium either.
The catalog that stood out to me most for its sleeper hits was Sotheby's Important Watches sale that took place Sunday. (Check out the full catalog here.) Turning the pages, I struggled to find as many heart-stopping lots, but I found myself dog-earing page after page of things I wanted to take another look at. Here I've assembled a collection of nine: These are all awesome watches, some rarer than others, and to be clear, they're not cheap, but they're all watches that I thought represented good relative value in a market that's pushing toward the stratosphere.
Audemars Piguet Royal Oak Perpetual Calendar In Solid Platinum (Lot 186)

I'm gonna start things off big here. This is a solid platinum Royal Oak with a full solid platinum bracelet that's packing a serious QP movement to boot. Best of all, it's in the 39mm "Jumbo" size, so it wears like a dream (a heavy dream, but a dream). If you've never seen one of these in the metal, I cannot recommend strongly enough that you find one to try on. The watch is definitely hefty, but the comfort of the Royal oak case and bracelet offset this beautifully and you end up with a watch that has a je ne sais quoi like no other. This version has a silver dial without the tapisserie pattern, giving it a slightly cleaner, more modern look, and it is a limited edition of 25 pieces dating to 1998.
The estimate on this piece is CHF 20,000 - 40,000, which, while still serious money, it an outright steal for something like this. Depending on where it finally hammers, you might be able to get a platinum perpetual calendar for about the same price as a modern time-only, stainless steel Royal Oak "Jumbo" or Nautilus ref. 5711. I wouldn't be surprised if this one pushes beyond the upper estimate, but a man can hope, right? More on this watch here.
Patek Philippe Ref. 3424 Designed By Gilbert Albert (Lot 281)

Ok, this one is an acquired taste, but I suggest you do a little research and acquire that taste. During the late 1950s and '60s, Patek worked with a Geneva-based jeweler named Gilbert Albert (first in-house and then as a contractor), who created a number of strangely shaped watches for the venerated watchmaker. You've got to remember that this is the same time when Patek is making conservative, blue chip watches – this is pre-Nautilus, pre-Aquanaut, even pre-Ellipse. The Albert watches look exactly like the era in which they were born and are a rare example of an explicitly "fashionable" watch from a brand like PP. 
These watches are relatively rare and prices have been going up over the last few year. With that in mind, the CHF 20,000 - 40,000 estimate Sotheby's has placed on this 1961 model feels very fair to me. If you're still reading this, you might agree, but I'm willing to bet a number of you have already moved on to the next lot. Like I said, this kind of stuff isn't for everyone. More on this watch here.
Early IWC Aquatimer With Original Gay Frères Bracelet (Lot 179)

While today IWC is well known for its multiple lines of sports watches, back in the middle part of the 20th century it was regarded mostly as a maker of dress watches (military pilot's watches aside, of course). In 1967, that started to change with the brand's introduction of the Aquatimer, a compressor-style dive watch with a bold inner rotating bezel and a clean, highly legible dial.
Finding early Aquatimers in great condition is tough for a number of reasons. As with all sports watches, many were used and abused to varying degrees and the production numbers on these weren't high enough to give us many near-mint barn finds today. The example here is from 1968 and comes with both a certificate from IWC and the watch's original IWC-signed Gay Frères bracelet in a sort of beads-of-rice style that looks like what you might find on a 60s Heuer chronograph. With an estimate of CHF 20,000 - 30,000, you're going to need to be a big IWC fan to bid on this one, but it's a genuinely rare and special watch that I don't see getting too much attention. More on this watch here.
Cartier Santos In Platinum With A Salmon Dial (Lot 55)

By now you probably know I'm a recent convert to the Cartier Santos, but I think even before my latest revelations I'd have been into this one. I mean...look at it. This is a small Santos from the mid-90s with a solid platinum case and bezel and a subtle salmon dial (remind you of anything?). One of my favorite details? The cabochon in the crown is a real sapphire – no spinels or impersonators here. This watch was a limited edition of 90 pieces (this is number 28, in case you're curious), and I've got to admit it's a watch I'd never seen before. Yes, that still happens to us here at HODINKEE HQ. 
If this watch sells in the CHF 5,000 - 7,000 estimate range, someone is going to get a hell of a steal. This is one of those watch that, on the right strap, could look like a million bucks. It's a piece that, in particular, I could see any of the few dozen chic-as-hell Italian collectors I know rocking with a dark tan and a light linen shirt like they were born to (because they were). More on this watch here.
Jaeger-LeCoultre Reverso With Blue Dial (Lot 211)

There are some watches that have just never experienced the same giant price surges that we've seen in most of the vintage market over the last decade or so. The Reverso would be chief among them. There's so much to love about the Reverso, but I think the relatively small profiles of the early examples (and the strength of many of the modern tribute pieces) has helped keep them attainable. 
This Reverso dates to 1944 and has a deep blue dial with darkly aged radium for the hour markers and hands. If you flip the watch over there's an awesome Art Deco enamel-filled monogram reading "MJ" that I think makes this watch. I mean, how many cool MJs are there out there? A lot, right? I doubt any of them owned this watch, but for CHF 10,000 - 15,000 you could certainly pretend. More on this watch here.
Solid Yellow Gold Vacheron Constantin 222 (Lot 112)

Alright, let's get weird people. To call this watch a cult classic is a vast understatement – and that's in stainless steel. In solid yellow gold, the Vacheron Constantin 222 is a straight up love or hate watch. Most will think it's too funky and too loud, but if that's kind of the look you're going for it's an exceptional watch that you can have for a still reasonable price.
With an estimate of CHF 15,000 - 20,000, this watch reminds me of the platinum Audemars Piguet QP up above in a lot of ways. It's a true design classic and to be able to get one in a solid precious metal at this price point is crazy. This 1978 example looks to be in good shape and VC's choice of a golden date disc to harmonize with the markers and hands is one of the little things that helps the watch sing. More on this watch here.
Patek Philippe Ref. 3429 (Lot 297)

I've tried not to double up on brands here, since there are more than enough options to choose from without doing so, but this one is personal. I love the reference 3429. I probably shouldn't be putting this watch in here, because doing so could help push prices up – and believe me, until there's one in my collection that's the last thing I want. This watch is so underrated. Like, to a criminal degree.
The 3429 is a 35mm mid-century Patek, here in a sleek white gold case, that only shows hours, minutes, and seconds. The dial is clean and open, with simple stick markers and hands, and nothing to speak of in the way of adornment. It does however house an automatic movement beneath the screw-down back, two things that make the watch extremely practical and wearable. It's not quite the 2526...but it's pretty damn close. And at CHF 20,000 - 30,000, this watch could be less than half the price of one of its more popular siblings. More on this watch here. 
Heuer Carrera Ref. 2447N (Lot 168)

Heuer is hot right now. It wasn't all that long ago that a killer Carrera could be had for under $5,000 every day of the week. In the era of Heuer Parade and a generally hot market, that's not a regular occurrence anymore. Far from it, in fact. 
The 2447N is arguably the most desirable of the early Carreras – with its black dial, silver rehaut, three register layout, and lack of date – and it wears like a dream. I'd be a little shocked if this one stay in the CHF 6,000 - 8,000 estimate range, but you never know. If you're looking for a nice Carrera, pay attention, this could be a great opportunity to get one for a more wallet-friendly price. More on this watch here.
Cream Dial Rolex Explorer II Ref. 16550 (Lot 73)

You thought we'd get all the way through this list without a Rolex? Seriously? Yeah right. I'll at least spare you more about Daytonas and pick something a little unusual. During a transitional period in the late 1980s, Rolex created a batch of would-be white Explorer II watches that ended up a cream color instead. You'll notice that the dial and the tritium lume are almost the same color in the photos here. 
These watches have had their ups and downs in the collector market over the years, but I still think that at CHF 8,000 - 10,000 it's one of the rarest Rolex watches you can buy and something that has potential upside down the line. More on this watch here.
Before it's here, it's on the Bloomberg Terminal.
LEARN MORE