Economics
Canada Sheds Jobs Even as Wages Rise at Fastest Pace Since 2012
By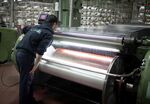 Canada failed to generate any new jobs in April, but the unemployment rate stayed at the lowest in four decades and wages accelerated to signal a tight labor market.
Canada lost 1,100 jobs during the month, Statistics Canada reported Friday, just the second time since mid-2016 the economy didn't add new positions. Economists had forecast a 20,000 job gain. The jobless rate was unchanged at 5.8 percent, still the lowest in records back to 1976.
The numbers fit a pattern over the past four months that indicate a labor market hitting capacity -- with the labor force stalling and employees seeing larger wage gains.
The trend poses a major challenge to the Bank of Canada, since how quickly the economy expands without triggering wage gains and inflation is a key question for policy makers. Even with last year's surge in hiring and wages gaining, the central bank has said pockets of untapped labor market slack remain that could limit wage and price pressures.

Since the start of the year, Canada's labor force has shrunk by 25,500 and employment is down by 41,400.
The average hourly wage in April was C$27.02 in Canada, up 3.6 percent from a year earlier. That's the fastest pace of growth since 2012. Average hourly wages for permanent workers -- which is more closely watched by economists as a gauge of underlying pressures -- was up 3.3 percent, also matching the highest since 2012.
Other Highlights

One positive is the losses were in part time, which registered a 30,000 drop in employment. Full-time employment was up 28,800, which is near average over the past 12 months
Gains were also recorded in the "employed" segment of the labor force, which offset drops in self-employment
Hours worked up 1.9 percent in April from a year ago, the smallest increase since November 2017
Employment declines were led by the construction industry, which saw an 18,900 job loss. Services-related jobs were up 14,800 during the month
— With assistance by Erik Hertzberg
(
Updates with jobless rate in second paragraph.
)
Before it's here, it's on the Bloomberg Terminal.
LEARN MORE