markets
No New 'Cockroaches' Likely to Show at Wells Fargo Investor Day
By and
Bank may try to showcase franchise resiliency at May 10 event

Expenses, impact of Fed punishment likely to be in focus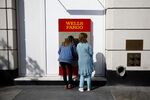 Wells Fargo's shares are rising in mid-day trading, along with other bank stocks, ahead of its investor day on Thursday. Analysts will be watching the bank's expense levels and for hints about the Federal Reserve's stress tests. Eyes are also trained on the impact of a harsh new Fed punishment capping assets -- and for whether new scandals may surface.
"The emergence of new issues remains one of the greatest risks to the stock," Evercore ISI's John Pancari writes. "If new cockroaches cease from emerging, this could bring a greater degree of investor confidence."

Here's a sample of analyst commentary:
Evercore ISI, John Pancari
Expects new 2-year targets of 12%-15% ROTCE, 1.20%-1.50% ROA; no change to 2018 $53.5b-$54.5b expense guide; no change to $4b cost saves; also sees consent order impact unchanged at $300m-$400m net income drag in 2018; loan growth modest, but unencumbered by consent order
Capital deployment may be a bright spot; excess liquidity a more meaningful lever
Outperform, PT $60
Credit Suisse, Susan Roth Katzke
Expects "a full slate" of presentations focused on "building confidence in the resilience and strength of the Wells Fargo franchise"
Sees muted 2018 outlook, with downside risk to estimates
Mgmt needs to convince investors franchise can hold up however long Fed's consent order/asset cap persists, and that "earnings visibility is better than we think," thanks to expense initiatives and capital return capacity.
Neutral, PT $62
Buckingham, James Mitchell
Investors/consensus may be "overly pessimistic" on mgmt's ability to drive material net cost savings to the bottom line in 2019, beyond
Skepticism about WFC's ability to execute on a cost-cutting program that's largely under its own control seems "illogical," and creates low bar for positive surprise
Buy, PT $70
Bernstein, John McDonald
Expects to hear mgmt committing to lower expense levels in 2019, 2020
Notes WFC continues to target CET-1 ratio of ~10% within the next 2-3 years (vs 12.0% today), implying significant ramp in capital distributions
May reiterate customer and employee attrition aren't as bad as portrayed in the press and in some investors' minds
Outperform
Sandler O'Neill, R. Scott Siefers
Shares may continue to "grind a bit higher" as market focuses on costs
Cautions CCAR is likely more important event than investor day as a confidence building exercise
Looking for 2019 expense guide of $53b or better
Buy, PT $64
Portales, Charles Peabody
WFC proclaims that it's "business as usual," but "the revenue outlook suggests that the franchise might be broken"
Rev. growth likely to be source of future disappointments, as 1Q didn't yet reflect $300m-$400m negative net income impact of regulatory cap
Says WFC shares represent "value trap" more than "value play"
Sees downside risk in shares to $44-$48 range
Hilton Capital Management, Dick Bove
Bove said he plans to watch WFC investor day; he's bullish on WFC as it's "a dirt-cheap stock"
See full story: Dick Bove Moves to $10m Buy-Side Fund Because It's 'More Fun'
Before it's here, it's on the Bloomberg Terminal.
LEARN MORE