MapLab: Nerds Shall Inherit the Earth
A biweekly tour of the ever-expanding cartographic landscape.
By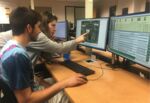 Welcome to the latest edition of MapLab. Sign up to receive this newsletter in your inbox here.
---
Compass points: Putting transit on the map
Across the United States, the bus is in peril. Ridership on the nation's rubber-tired transit fleets is at its lowest level in 30 years.
There are many reasons why Americans are getting off the bus: low gas prices, the rise of app-based rides, and lingering service cuts along important routes. Another discouraging factor, researchers find, is the uncertainty of where and when buses arrive.
That's why a group of undergrads at the University of Maryland, College Park, spent a gorgeous May afternoon holed up in a windowless computer lab mapping a bunch of buses. Last Thursday, their chapter of Gamma Theta Upsilon, a geography honors society, traced routes and entered schedule data for a network of Northern Virginia commuter shuttles into the backend of Moovit, the world's largest transit-only navigation app.
Not one of them had ever ridden the Loudon County buses that they charted. They were there because good transit maps are a huge aid to riders.

"The D.C. Metro app is really bad," Joseph Cunningham, a senior who was attending his first-ever map-a-thon, told me. "They never update it, and it's always crashing on my phone." Cunningham was painstakingly plotting each stop along the commuter route he'd been assigned by club leaders onto the Moovit editing platform. "Just looking at this already, I feel like it makes things more user-friendly," he said.  
Moovit isn't very well-known in the United States, where less than 5 percent of the population commutes by bus or train, but it's available in 2,200 global cities. The app crowdsources about 60 percent of its data from thousands of volunteer transit mappers around the world.

Apart from offering bus and train maps, Moovit also tries to accurately predict bus arrival times by layering real-time information, weather, ridership statistics, and other data on top of the transit agency timetables, which can be unreliable. Apps like OneBusAway, Transit, and CityMapper do, too. Research by Kari Watkins, one of the creators of OneBusAway and a professor of civil engineering at Georgia Tech, shows that real-time arrival information can have a positive effect on riders' willingness to take transit.
Of course, the undergrads were there for another reason, too: They f**king love maps. "Everything has a place and a reason why it's there," said Andrew Lazara, a junior majoring in geography who helped coordinate the event, as he handily mapped his route. "Connecting each of these points, you're sort of making history."
More map-a-thons please: How women mappers change the world. Open-source maps to aid Puerto Rico. A throwback overview of "citizen cartography."
Bus to the Future: CityLab launched serious bus coverage this week.
---
Startographer of the week: Your trusty guide
Sweet notes poured in from South Carolina, Maine, Pennsylvania, Massachusetts, California, and Australia after I asked readers to send photos and stories of their favorite paper maps. Thank you! This is probably unfair, but the highlight had to be from Margaret Pearce, who physically mailed an accordion map of bookstores along the Maine coast, part of a series she designs and prints. "You asked for pictures… but that would kind of defeat the purpose, no?" she wrote. Well played, Margaret.

---
Mappy links
Transit is the answer: where congestion is in overdrive. Partly a data crisis: researchers map the opioid epidemic. It's a lifestyle: Google Maps gets into the social planning biz. Yay voters: gerrymandering in Ohio could be on the way out. Dev wars: Mapbox gives the Big G a run for its money. Look ma, no maps: these driverless cars from MIT don't need them. Design porn: eye-popping vintage road atlases from Rand McNally. No roadmap: "As of mid-2017, there are nearly 15,000 nuclear weapons in the world."
---
The world can be a scary place. At least there are maps. Forward this email and sign up for MapLab here.
—Laura