technology
Here's What Wall Street Is Saying About Walmart's Flipkart Deal
By and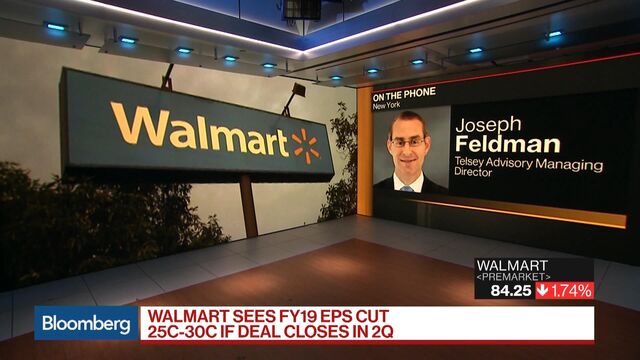 Walmart Inc. sank after announcing its largest acquisition ever, a 77 percent holding in India's Flipkart Group for $16 billion. Wall Street got a bit of sticker shock as Baird noted that "the price tag is hefty" and Susquehanna described the expected short-term dilution as "brutal." Analysts were more optimistic on the longer-term potential benefits but that didn't help the shares, which fell 3.1 percent to close at their lowest since Oct. 9.

Here's what analysts are saying about the deal:
Baird, Peter S. Benedict
"Today's Flipkart deal (WMT's largest ever) is CEO Doug McMillon's boldest move yet as he continues to transform the company to compete/succeed in the future of retail."
"The true merits of the transaction will be determined longer term (including an eventual IPO of Flipkart)."
"The deal's strategic appeal is straightforward – it provides WMT with instant scale in one of the world's fastest growing ecommerce markets" and it also "keeps Flipkart out of the hands of the No. 2 player (Amazon)."
Outperform, price target lowered to $95 from $105
Susquehanna, Bill Dreher
"While the short term dilution from the Flipkart acquisition is brutal, this is a brilliant long term move."
"Walmart needed a bold move to secure its position in the rapidly evolving omnichannel global landscape, which requires scale to compete with Alibaba and Amazon."
"The deal gives Walmart an equity stake with extremely strong partners in both India (Flipkart) and China (JD), which should make Walmart a long term winner in both markets."
Positive, price target $126
Stephens, Ben Bienvenu
"While the financial impact of the deal is more significant" than expected, "the strategic value of the asset warrants the investment, in our opinion, as WMT shows it is serious about competing in the global ecommerce marketplace."
"This marks a significant entry into the fast-growing Indian marketplace that has been so elusive for WMT to date."
"Importantly, management intends to maintain its current share repurchase program during this time."
Overweight, price target under review
Bank of American Merrill Lynch, Robert Ohmes
"The Flipkart investment would dramatically expand WMT's India presence from the 20 cash and carry stores that WMT currently operates in India."
"We view the deal as part of WMT's efforts to optimize its international portfolio by expanding in key faster-growing markets (China and India) through joint ventures with local partners, while reducing exposure in challenging or low-growth markets. The deal also brings WMT into competition with Amazon in India."
"Deal expected to be dilutive for foreseeable future"
Buy, price target cut to $98 from $120
UBS, Michael Lasser
"WMT's planned acquisition represents a significant expansion into one of its targeted growth markets"
"We think WMT can use this purchase as an opportunity to get a head start in a rapidly growing, digital market. Though, competition remains fierce, and it will likely be a drag on earnings for the foreseeable future."
Neutral, price target $103
Bloomberg Intelligence, Jennifer Bartashus

"The deal will create an annualized EPS drag of about 60 cents, largely from operating losses, and adds pressure to the U.S. e-commerce business to reach profitability."
"Deal premium underscores opportunity" as "the $16 billion purchase price is about 4.5x historic sales. This premium is only modestly higher than Amazon.com's current value of 4x sales, and Flipkart is growing more quickly."
Before it's here, it's on the Bloomberg Terminal.
LEARN MORE