markets
China Tourism Bet a Winning Investment Strategy, SocGen Says
By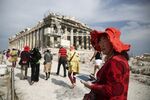 A basket of Asian blue chips exposed to outbound Chinese tourism has outperformed the regional benchmark by more that 5 percentage points this year, according to Societe Generale SA.
A bunch of 44 stocks, including casino companies, retailers and transportation firms from Hong Kong, China, Japan and South Korea have benefited from the quadrupling in the number of outbound trips made by Chinese residents over the past decade, analysts including Wei Yao wrote in a note Wednesday.

"The impressive growth in Chinese outbound tourism is one of the most convincing signs that China's economic rebalancing is well under way," the analysts said. "After a decade of exponential growth, China now accounts for over one-fifth of the world's international tourism spending, twice as much as the next-biggest spender, the U.S."
The French bank expects the trend to continue, "as more Chinese will likely have greater financial means, easier access and a growing appetite to see the world."
Before it's here, it's on the Bloomberg Terminal.
LEARN MORE