Home Audio
The Ultimate Analog Music Is Back
Surging demand for vinyl LPs has raised hopes for the reel-to-reel tape deck, which returns to sale this month for the first time in decades.
By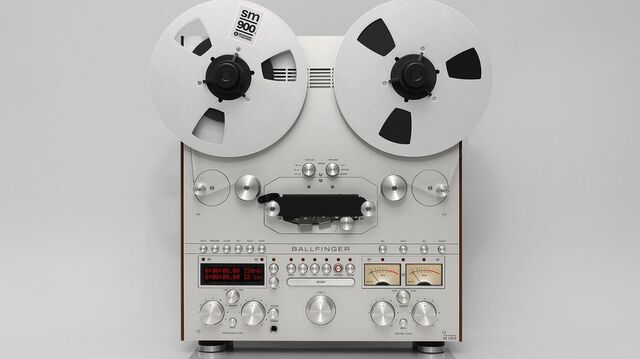 It's no secret that sales of vinyl music are at the highest in decades. Even the lowly cassette tape is regaining popularity as some millennials embrace analog music over digital downloads and streaming services.
But for the first time in more than two decades, a German company is reviving what may be the ultimate format: a new reel-to-reel tape machine.
Dusseldorf-based Roland Schneider Precision Engineering this week will introduce four Ballfinger reel-to-reel machines, bringing back a technology that dominated professional music recording for most of the 20th century and is now making a comeback with audiophiles and artists including Lady Gaga.
The sleek machines, some of them customizable, will retail from about 9,500 euros ($11,400) for the basic version to about 24,000 euros for the high-end model, which features three direct-drive motors, an editing system and walnut side panels.

"Digital media is great, but experiencing music is more than just listening to a sound file -- it's sensual, it's reels that turn and can be touched," says Roland Schneider, the machine's designer. "When it comes to audio quality, nothing else in the analog world gets you closer to the experience of being right there in the recording studio than reel-to-reel tape."
Schneider's machines made a big splash when he unveiled prototypes at an industry fair in Hamburg last year. A designer who has built a high-end record player, watches and a Bauhaus-inspired table lamp, Schneider spent about six years developing the machines. He says he has since received distribution requests for them from more than 80 companies, including ones in the U.S., Hong Kong and Dubai.
Reel-to-reel dominated professional audio recording from the late 1940s, when Bing Crosby helped introduce the technology in the U.S., until the early 1990s, when digital technologies took over because they made editing and reproduction easier and cheaper. These days, more people have likely seen Uma Thurman in "Pulp Fiction" playing Urge Overkill on a reel-to-reel than have ever seen one in the flesh.
Yet with a growing demand for music that sounds different than the overly polished digital recordings that have dominated the charts for the past two decades, studios are dusting off their analog equipment and musicians are rediscovering the old way of producing songs. Lady Gaga, Ryan Adams and the Black Keys are just a few of the artists who have recorded songs to tape in recent years. Industry press has speculated that other manufacturers such as ReVox may follow to revive the format from its glory days.
Vintage tapes are widely available on the internet sites such as The Tape Project or second hand on ebay, but are more readily available in the U.S. than elsewhere.  Blank tapes for recording can be bought directly from York, Pennsylvania-based ATR Magnetics as well as French manufacturer Mulann, which offers its RecordingTheMasters brand. Schneider and Mulann, the biggest tape maker, plan to cooperate, but the designer said he couldn't yet share more details of the agreement.
While reel-to-reel is making a comeback, it still barely moves the needle. Schneider, who says he has the capacity to produce about 200 machines a year, seeks to sell 20 to 30 players this year and about double that next year. And he's in talks with other producers with more manpower (Schneider has two employees and a handful of freelancers) to potentially license his technology, he said.
"The high end hi-fi market is a difficult one, and companies are desperate for innovation," Schneider said.
Even if the innovation is decades old.

Before it's here, it's on the Bloomberg Terminal.
LEARN MORE