technology
HNA Is Said to Be Planning Stake Sales to $1.5 Billion HNA Fund
Bloomberg News
Tuniu, Tianjin Airlines among HNA units said to be targeted

Deals may provide liquidity relief for debt-laden group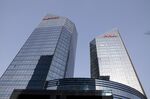 HNA Group Co. is planning to sell stakes in some units to a $1.5 billion fund that it's setting up to help the embattled Chinese conglomerate pay off some debt, according to people familiar with the matter.
The conglomerate's Overseas Aviation and Tourism Industry Fund will buy minority stakes in group-controlled companies such as online travel agent Tuniu Corp. from HNA, according to the people, who asked not to be identified discussing a private matter.
Other targets include:
HNA will control the fund, which plans to initially raise about $300 million -- half of the money coming internally -- and expand that to $1.5 billion by the end of the year, according to the people. External investors in the fund, which may also invest in other assets beyond those already held by HNA -- will be promised returns of 8 percent to 15 percent annually, according to the people.
HNA declined to comment.
How HNA's Meteoric Rise Switched to Dramatic Downfall: QuickTake
Depending on the amount of money raised externally, the fund's purchases could provide some financial relief for the group, which is saddled with one of the world's biggest debt loads and burdened with Asia's highest interest expenses for a non-financial company, according to data compiled by Bloomberg. The once-acquisitive Chinese group has sold more than $13 billion of assets this year this year so it can pay off debts.

Reuters reported late last month that HNA was planning to raise $1.5 billion for a fund by the end of last year to spearhead the group's future investments and acquisitions, though the article didn't mention specific targets.
— With assistance by Haze Fan, Heng Xie, and Dong Lyu
Before it's here, it's on the Bloomberg Terminal.
LEARN MORE