markets
AfDB Seeks to Plug Africa $170 Billion Infrastructure Needs
By and
African Development Bank is launching investment forum

Inaugural November meeting will focus on transacations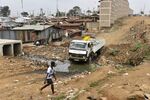 The African Development Bank seeks investments from global pensions and commercial financiers to help fund the continent's infrastructure gap of as much as $170 billion a year.
The Abidjan-based lender is launching its Africa Investment Forum in Johannesburg on Tuesday. The forum will host its first meeting in November in South Africa's commercial hub and will have "no speeches," but rather present bankable projects to investors, according to AfDB President Akinwumi Adesina.
The forum is "very unique," Adesina said in an interview in Johannesburg on Monday. "It will not be a talk shop. No political speeches allowed -- it's 100 percent transactional."
The continent has an infrastructure funding gap of $87 billion to $112 billion annually, according to AfDB estimates. This strains economic growth in a region that is one of the world's poorest, despite having vast mineral resources. Sub-standard roads, ports and airports add to the cost of exporting commodities and hamper intra-regional trade.
A lot of infrastructure can be done by private companies instead of governments, Adesina said. That would require cost-reflective tariffs for services such as electricity because "it makes no sense to be asking the private sector to invest in energy when they are going to be losing money," he said.
Private-Funding Goal
The lender currently has a pipeline of $30 billion of projects to invest in, Adesina said. Its Africa50 Fund has mobilized $863 million for infrastructure investment and seeks to raise $3 billion in private-sector funding in the next three years, he said.
"When investors come to Africa to invest, I think sometimes it's like landing their plane in the middle of a bush -- you land it first time and you survive and the second time you land it you survive and then you say you're not landing it again," Adesina said. "What the Africa Investment Forum is going to do, is to install a well-prepared runway for this investment to land in Africa and to stay in Africa."
(
Adds comment on tariffs in fifth paragraph.
)
Before it's here, it's on the Bloomberg Terminal.
LEARN MORE