politics
Australia Needs Company Tax Cut to Compete, Treasurer Says
By
Lower rate will ensure investment, wage increases: Morrison

Government sees urgent need for company tax cuts: minister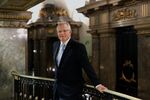 Australian businesses need a lower corporate tax rate to help them compete with global rivals and to encourage investment, Treasurer Scott Morrison said ahead of Tuesday's national budget.
Prime Minister Malcolm Turnbull's plan to lower company tax rates to 25 percent from 30 percent over a decade has encountered opposition in the Senate.
"A corporate tax rate which will make us competitive with the rest of the world again will ensure that we are getting investment and jobs and growth and wage increases," Morrison told Channel Nine's "Today" program in an interview broadcast Sunday.
Australia has the third highest company tax rate in the industrialized world, according to the Business Council of Australia, an advocacy group with members including Commonwealth Bank of Australia and BHP Billiton Ltd.
Read more: Australia Says Budget Focus on Tax Cuts for Companies, Workers
Turnbull's government will include its corporate tax cut plan in an election platform if the measures aren't passed ahead of a national poll that's expected in 2019, Finance Minister Mathias Cormann told Sky News on Sunday. "If we continue to disadvantage businesses in Australia, compared to business in other parts of the world who pay less tax, we're putting jobs at risk," Cormann said.
Other measures outlined Sunday ahead of Tuesday's budget:
The Australian Taxation Office will be given powers to help recover a forecast A$3.6 billion ($2.7 billion) over four years in lost revenue with a blitz on trade in illegal tobacco crops and untaxed cigarettes
The government will provide A$241 million to make Spinraza medication, used to treat spinal muscular atrophy, available for patients under the age of 18 through a program that offers subsidized prescription drugs
Investment of A$39.5 million to provide whooping cough vaccine to all pregnant women; funding of A$33.8 million for Lifeline suicide prevention charity
Before it's here, it's on the Bloomberg Terminal.
LEARN MORE