politics
Trump Says He Repaid Stormy Daniels Hush Money And It Was Legal
By and
President says he repaid $130,000 via 'retainer' for Cohen

White House spokeswoman not informed of Giuliani's disclosure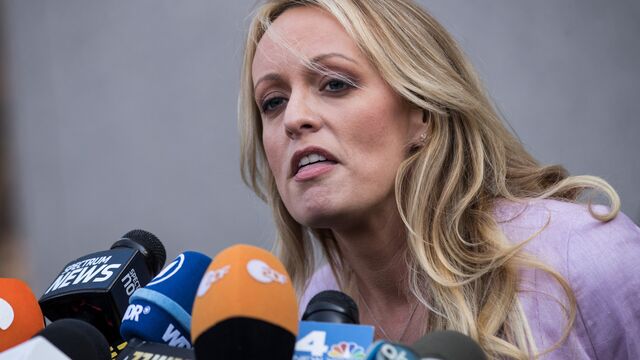 President Donald Trump changed his account of a $130,000 payment made to adult film actress Stormy Daniels during the 2016 campaign, saying Thursday that he reimbursed his attorney via a "retainer" to stop "false and extortionist accusations" of an affair.
Trump asserted in a Twitter post that the money had "nothing to do with the campaign," pushing back against allegations that Michael Cohen's payment to Daniels for a nondisclosure agreement violated campaign finance laws.

The arrangement is "very common among celebrities and people of wealth," he said in a subsequent message.
The president's tweets confirmed a disclosure by his new lead attorney, former New York City Mayor Rudy Giuliani, in a Fox News interview Wednesday night. Giuliani told host Sean Hannity, unprompted, that Cohen's payment was "perfectly legal," "not campaign money," and "the president repaid it."
Giuliani said in an interview with Bloomberg News on Thursday that "I can't tell you when, exactly" Trump learned Cohen had made the payment to Daniels on the president's behalf.
"Recently," he said. Giuliani's timeline indicates Trump reimbursed Cohen for the payment before the president learned the payment had been made.
Trump and Cohen have both previously said the president didn't know about the payment to Daniels, and Trump has said he didn't know the source of the money. Trump's own White House staff was evidently caught off-guard by Giuliani's disclosure.
Asked when she personally learned that Trump had repaid Cohen, White House Press Secretary Sarah Huckabee Sanders said: "The first awareness I had was during the interview last night."
Giuliani said in subsequent interviews with the Washington Post and New York Times that Cohen was repaid in the form of monthly "retainer" payments of $35,000. He said Trump didn't know precisely what the money was used for until Giuliani told him.
"As far as he knew they were expenses he was reimbursing," Giuliani told Bloomberg News.
Trump and Giuliani maintain the payments didn't violate campaign finance law, but the law prohibits loaning candidates money during a campaign if the purpose is to impact the outcome of the election. Giuliani said on Fox News's "Fox and Friends" Thursday morning that Cohen's payment to Daniels was intended to prevent her allegation of an affair becoming public before the election.
"Imagine if that came out on October 15, 2016 in the middle of the, you know, last debate with Hillary Clinton," Giuliani said. "Cohen didn't even ask. Cohen made it go away. He did his job."

Walter Shaub, former director of the U.S. Office of Government Ethics who resigned last year after clashing with the Trump administration, said that all of Trump's payments to Cohen may have violated the law. "Trump and his attorney, Rudy Giuliani, now admit that he had a $460,000 liability that he omitted from his financial disclosure report," Shaub said.
Cohen, Trump's personal attorney, is in the midst of a legal firestorm over the payment to Daniels, which was made in exchange for Daniels' silence about an alleged affair with Trump. Giuliani provided the most definitive link yet between the president and Daniels, a $130,000 payment that the White House -- and Cohen -- have tried to distance from Trump.
Speaking in a later interview with Maria Bartiromo on Fox Business Network, Giuliani said such payments aren't unusual and he's settled cases for clients regardless of whether they're guilty.
"Would Tom Brokaw have paid it if it kept his reputation? Did other people pay money like this?" he said. "It's equally damaging. It's more damaging to the person who's innocent because nobody ever forgets it."
Daniels' attorney, Michael Avenatti, said Thursday on MSNBC that if the payment to his client was structured as a retainer for work that didn't occur, it may still violate laws. He said Trump's tweets appeared to have been written by a lawyer who is a "moron."
"Our case just got exponentially better in the last 24 hours," Avenatti said. "These folks make the Watergate burglars seem competent."
Giuliani's comments about the payment capped a tumultuous day for Trump's legal team. Earlier in the day, it was announced that Ty Cobb, the White House lawyer handling the investigation into possible collusion between Trump's campaign and Russia, would be replaced by Emmet Flood, a veteran Washington attorney who was part of the team representing former President Bill Clinton during his impeachment proceedings.
Giuliani, a former U.S. attorney, later told the New York Times that Cohen had made the payment to Daniels, whose real name is Stephanie Clifford, "on his own authority."
However, Cohen's attorney David Schwartz has repeatedly said that Cohen didn't receive reimbursement from Trump. He said he was "100 percent" certain that Trump didn't repay Cohen, and said on NBC last month that Cohen made the payment out of his "love" and "loyalty" to Trump.
The White House has referred questions about this in the past to Schwartz and Cohen, and Sanders again deflected many questions from reporters on Thursday.
Giuliani on Thursday called on Attorney General Jeff Sessions to "step in" and end Special Counsel Robert Mueller's probe. He said the raid on Cohen's office and home and publication by the New York Times of a list of possible questions Mueller's team wants to ask Trump -- a list said to be compiled by Trump's legal team -- lessened the chances that Trump would voluntarily agree to be interviewed for the probe.
"They're going to have to convince us," Giuliani said of the chances of the interview and his concerns over objectivity. "It's not as good as was when I first came in."
The change of approach toward Mueller's investigation drew more attention to the lack of message discipline that has plagued Trump's legal team and the White House.
Who Knew About Payment?
Cohen and Trump have said the payment was made without Trump's knowledge and Cohen has insisted he used his own money to pay Daniels in the weeks before the 2016 election. That has stirred accusations that Cohen's payment to the porn actress amounted to an illegal campaign contribution.
Giuliani's statement indicates that Trump was aware of the payment and reimbursed Cohen for it. It is unclear when or how the reimbursement took place.
"When I heard Cohen's retainer of $35,000, when he was doing no work for the president, I said 'That's how he's repaying, with a little profit and a little margin for paying taxes for Michael,''' Giuliani said.
Asked last month whether he knew about the payment to Daniels, Trump said "No.''
Asked if he knew where Cohen got the money for the payment, the president said he didn't.
"No, I don't know,'' Trump told reporters.
Cohen has said he paid Daniels out of his own pocket and wasn't reimbursed by the Trump Organization, the president's company, or by the Trump campaign. He hasn't said whether Trump personally reimbursed him.
Asked several times about the payment in recent months, Sanders has repeatedly declined to comment, saying that Trump had addressed the issue "extensively."
"The president has addressed these directly and made very well clear that none of these allegations are true," she said in March when asked if Trump had approved of the payment.
On Wednesday, Giuliani said Trump was aware of the payment arrangement and that it did not constitute a campaign finance violation.
"He didn't know about the specifics of it, as far as I know,'' he said. "But he did know about the general arrangement, that Michael would take care of things like this.''
"That money was not campaign money, sorry," Giuliani added.
Cohen, a former Trump Organization Inc. executive, has been Trump's personal lawyer and has claimed to be a loyal "fixer" for his longtime boss.
Since the payment became known, Daniels has filed a lawsuit saying that the non-disclosure agreement wasn't valid because Trump never signed it. Cohen won a temporary halt of that lawsuit while he faces a criminal investigation.
Cohen said he would assert his Fifth Amendment right against self-incrimination in the lawsuit after the FBI raided and searched his residence, office and hotel room in New York last month.
Federal investigators are looking into Cohen's business dealings, including the $130,000 payment.
— With assistance by Terrence Dopp
Before it's here, it's on the Bloomberg Terminal.
LEARN MORE