markets
Bank of America and Goldman Clash on Where the Aussie Is Heading
By
BofAML sees Aussie dollar at 77 U.S. cents by year's end

The currency has tumbled to the lowest level since June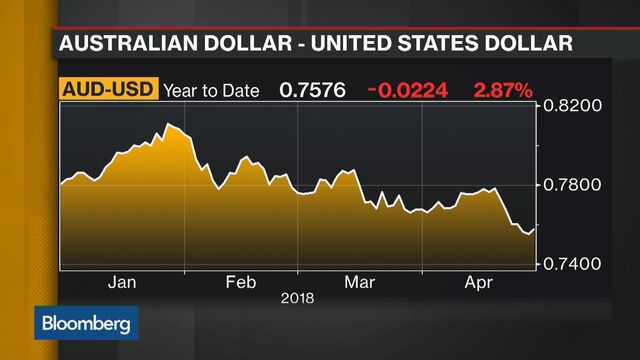 Bank of America Merrill Lynch reckons the Australian dollar will rise to 77 U.S. cents by year end driven by higher local interest rates. Goldman Sachs Asset Management says the currency is heading south with the central bank on hold.
The diverging views come as the Aussie has sunk to a 10-month low, pummeled by a rallying greenback. Swap traders are pricing in a one-in-three chance of a rate increase in Australia at the December meeting, while the Federal Reserve is committed to lifting borrowing costs.
The Reserve Bank of Australia kept rates at a record low 1.5 percent on Tuesday as employment growth moderates and inflation lingers near the bottom of its 2 percent to 3 percent target. The currency fell as low as 74.73 U.S. cents on Tuesday, its weakest since June. It was trading at 74.96 U.S. cents on Wednesday.

The Aussie is forecast to trade at about 79 U.S. cents by the fourth quarter of this year, according to a survey by Bloomberg.
The renewed bullishness in the greenback has prompted some strategists, such as those from HSBC Holdings Plc, to raise their dollar forecasts, while cutting their bullish bets on Australia's currency.
Read More: Australia Holds Interest Rate as Employment Bonanza Winds Down
The following are a selection of comments from investors and analysts:
Dollar Traction
Tony Morriss, head of economics and rates strategy for Australia and New Zealand at Bank of America Merrill Lynch:
The U.S. dollar has really gained some traction in recent weeks as other central banks appear to have become more dovish
Sees a low for the Aussie of around 75 U.S. cents at the end of June, before a recovery to 77 cents by year's end, based on BofAML's view that there is still a case for the RBA to lift rates by then
An even weaker Aussie would be expected to support activity and push up inflation; will be watching inflation forecasts closely in the RBA's Statement on Monetary Policy out on Friday
'As Low as 68'
Tamar Hamlyn, principal at Ardea Investment Management:
A deteriorating outlook for Australia or an even stronger economic picture in the U.S. could see the Aussie easily dip below 70 U.S. cents, perhaps to as low as 68
Conversely, the gradual economic improvement slated by the RBA and eventual delivery of the next move in interest rates being higher could see it staying above 75 U.S. cents
Lower interest-rate differentials for both cash rate and bond yields could see reduced demand for Aussie dollar from offshore investors, who used to be attracted to higher Aussie yields
Sees the Aussie dollar as range-bound to slightly softer by year end, particularly given the expected path of Fed rate hikes
No China Boost
Raymond Lee, money manager at Kapstream Capital
Our base case even before the sell-off was somewhere between low-to-mid 70 U.S. cents by year's end
We don't see a lot of catalysts for the Aussie to rally for the rest of this year especially on the rate differentials side; the RBA isn't going to move this year
The other side is commodities and China, which said it's going to post 6.8% GDP growth for the next couple of quarters
Don't see a significant rally in Chinese growth above expectations, leading to a big rally in commodity prices and the Aussie heading back to 80 to 85 U.S. cents
'Hard to Be Bullish'
Philip Moffitt, Asia-Pacific head of fixed income at Goldman Sachs Asset Management
It's hard to be bullish on the Aussie, which will decline to 72 U.S. cents by year's end
There's going to be a pretty decent period of sluggish growth without much inflation Down Under
Australia still has slack in the labor market -- put all of these factors together and we're a few years behind the U.S. on rates
Ebbing Down
Darren Langer, senior portfolio manager, Nikko Asset Management
Aussie won't plummet although it will ebb down toward 70 to 72 U.S. cents by year's end
On a relative value basis there is is no reason why the Aussie should be going up because Australian rates aren't likely to rise
On most metrics the U.S. dollar has room to improve so that will probably take a bit of value off the Aussie
— With assistance by Garfield Clinton Reynolds
(
Adds Nikko comment in final paragraph.
)
Before it's here, it's on the Bloomberg Terminal.
LEARN MORE