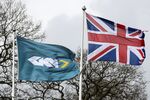 The British government has extracted what it says are the first legally binding commitments from a bidder covering how it will manage a company following a hostile takeover. The pledges extracted from Melrose Industries Plc in its pursuit of engineering giant GKN Plc risk setting an awkward precedent.
It's not unusual for bidders to throw about promises to treat employees well and support the economy when mounting takeovers. Today, buyers of U.K. assets need to choose their words more carefully. Following the takeover of confectioner Cadbury and a failed bid for drugmaker AstraZeneca Plc, the rule book was tweaked to distinguish between "intentions" and "post-offer undertakings" made by aspiring buyers.
An "intention" to keep a factory open can change. An "undertaking" to do so is a binding commitment. The latter must be agreed with the regulator, the Takeover Panel, and require an independent monitor, typically an audit firm, to ensure compliance. It is serious stuff, enforceable by the courts.
Getting the Panel to approve a POU clearly isn't easy. Melrose was unable to formulate an undertaking that it would keep GKN's aerospace business for five years. It's not hard to see why the Panel balked—Melrose wanted the pledge to be voided if a decent buyer surfaced that the government approved of. The commitment was conditional. So Melrose has now made undertaking directly with business minister Greg Clark.
The clumsy episode creates a gray area in the U.K. takeover regime. Clark says he expects POUs in bid situations where the public interest in "engaged." There could be quite a few. Yet it's far from clear that the sort of commitments demanded by lawmakers in the heat of a takeover battle will be things the Panel is willing to police, as happened in Melrose's case. The end result could be more bids involving contractual agreements directly with Clark and his successors.
This will be fine if it happens in isolated cases, where government and purchaser are on the same page and the Takeover Panel feels that enforcing a vague but headline-grabbing commitment is beyond its remit. But will ministers now start demanding questionable but politically expedient commitments from overseas bidders now the precedent is set in this all-U.K. deal? There's a dangerous path here to random demands on buyers that amount to little but protectionism in disguise.
Before it's here, it's on the Bloomberg Terminal.
LEARN MORE