politics
Rand Paul Says He'll Back Pompeo, Ensuring Support in Committee
By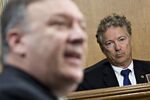 Republican Senator Rand Paul said he'll support Mike Pompeo's nomination to be the next secretary of state, admitting he changed his mind after the CIA director assured him that he believes the Iraq war was a mistake.
Paul's support likely ensures that the Senate Foreign Relations Committee will back Pompeo's nomination, which is expected to go before the full Senate this week.
Before it's here, it's on the Bloomberg Terminal.
LEARN MORE