technology
Andreessen, Costolo Want Wall Street to Adopt a Longer View
By
Executives among tech royalty urging SEC to back IEX's plan

Both are investors in Ries's Long-Term Stock Exchange venture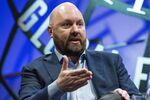 Members of the technology elite have endorsed an exchange's attempt to pull the stock market out of its short-term mindset.
Andreessen Horowitz co-founder Marc Andreessen, former Twitter Inc. Chief Executive Officer Dick Costolo and AOL co-founder Steve Case were among those who sent U.S. securities regulators comment letters on Monday supporting IEX Group Inc.'s plan to introduce rules designed to get public companies to focus on long-term strategy. (To be sure, there's self-interest at work in their enthusiasm: All three invest in a company associated with the project.)
IEX, which runs a stock market, hasn't yet gotten its corporate listings business off the ground. Currently, companies that want publicly traded U.S. shares can turn to two exchange operators: the New York Stock Exchange and Nasdaq Inc. IEX wants to be the third option, and it's working with Eric Ries, a guru for Silicon Valley entrepreneurs, to get there.
Read more about the Long-Term Stock Exchange
Ries formed the Long-Term Stock Exchange, which hasn't yet opened its market. But the firm wrote a set of rules meant to coax companies out of strategic near-sightedness, and IEX aims to use those guidelines on its own exchange. It's an attempt by IEX to differentiate itself from NYSE and Nasdaq, and a stopgap for LTSE, a way to get its name out on Wall Street while it tries to launch its own stock exchange.
Andreessen, Costolo and Case -- who all own stakes in LTSE -- said this new way of doing business on Wall Street is necessary. Here's some of what they had to say in their comment letters to the U.S. Securities and Exchange Commission:
Andreessen
"We're facing a dangerous trend in our public markets. IPOs have been falling drastically and companies are staying private longer. The number of public companies has continued to drop significantly at the same time that the economy as a whole has continued to grow. We at Andreessen are investors in and board members of many high-growth companies. We understand the reasons many avoid and delay going public. While there are several contributing factors, we believe one of the most damaging is the public market's myopic focus on short-term profits over long-term growth."
Click here for Andreessen's full letter.
Bloomberg News parent Bloomberg LP is an investor in Andreessen Horowitz.
Costolo
"As the CEO of Twitter at the time of its IPO, I understand first-hand the benefits of gaining access to the public markets, and also the influence of short­-term pressure on a company's results. The pressures of meeting quarterly Wall Street expectations can result in a constant battle against a myopic perspective. Companies that arrive at IPO because of their vision and long­-term thinking can find themselves pushed toward meeting quarterly targets at the expense of the approaches that have been core to their success."
"With fewer public companies in earlier stages, individual investors have limited options to participate in the high­-growth, long-­term success of companies. We should be creating systems that are inclusive and encourage public market participation."
Click here for Costolo's full letter.
Case
"People still stop me on the street to tell me the story of how they invested in AOL early on, held onto those shares, and were able to put their kids through college with their returns. This kind of opportunity is virtually nonexistent for the average American investing in today's public markets."
"Companies are responsible for putting a greater focus on how their strategic plans affect society beyond the bottom line. They are growth creators and job makers and beyond that, provide people with dignity and purpose. We should be engendering an environment where companies can focus on what's important, and where the investors with long-term horizons can recognize and support them for that focus."
Click here for Case's full letter.
Before it's here, it's on the Bloomberg Terminal.
LEARN MORE