Charted
Middle-Class Pain at the U.S. Pump?
Trump's tweet on OPEC oil prices may be tied to keeping fuel costs from undoing Americans' tax savings
By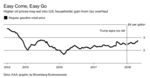 U.S. President Donald Trump's broadside against OPEC may reflect concern that the impact of the historic tax cuts he signed into law last year may be undone should drivers pay more at the pump as a result of higher oil prices. "I wonder if some of what he is internalizing here is that these higher oil prices are causing some middle-class pain," said Katie Bays, an analyst at Height Securities LLC. The average middle-class household saw an annual tax-cut savings of around $930, and a $1 rise in gasoline prices would eat up about half of that, or $500, according to Bays.
Before it's here, it's on the Bloomberg Terminal.
LEARN MORE