Photographer: Andrew Harrer/Bloomberg
markets
Global Outlook's Glass Seen Half Full as Markets Fret: Eco Week
By
Weekly take on events in the world economy and their meaning

Trade worries, debt overshadow upbeat economic forecasts
Follow the latest global economic news and analyis @economics.
Global policy makers are adopting a "glass half full" approach to the world economy, focusing on its sustained expansion even when acknowledging risks have mounted.
That's the overriding theme both of the International Monetary Fund's semi-annual meetings now underway in Washington and of our weekly wrap of the main economic talking points.
Upbeat Outlook
While investors are expressing concerns that momentum may be subsiding amid talk of a trade war, Wall Street economists and the IMF are forecasting the global economy will still expand this year by almost 4 percent, which would be the best since 2011. China showed signs of stability too as consumers offset an industrial slowdown. That's not to say there aren't challenges. As well as trade tensions, the IMF sounded the alarm on mounting debt and potential instability in financial markets.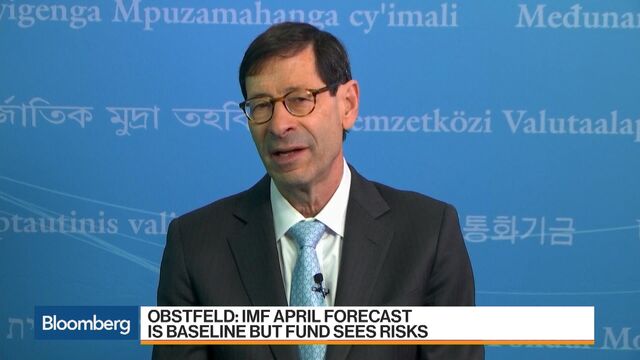 Read More:
Trade War Talk
The biggest threat out there is still that of a trade war. President Donald Trump opened a new front on Monday in warning China against devaluing its currency even though it's climbed lately. Beijing offered a carrot by promising greater market access for car makers and a stick in the form of duties on imports of U.S. sorghum. Both the U.S. and China are seeking allies in their confrontation over trade and investment.
Read More:
Central Banks
The Bank of Canada left interest rates unchanged this week as Governor Stephen Poloz bets the expansion can continue without fueling inflation. While the euro area is slowing, European Central Bank President Mario Draghi may also be willing to let his economy overheat. People's Bank of China Governor Yi Gang underscored his technocratic skills by delivering a one percentage point reduction in the reserve requirement for most banks.
Bank of England Governor Mark Carney surprised investors, hinting a rate increase next month isn't a done deal. Swiss National Bank President Thomas Jordan said there's no hurry to adjust policy despite the franc touching the 1.20-per-euro milestone that once was the central bank's currency cap.
The Federal Reserve is getting staffed up, with Pimco economist Rich Clarida nominated to serve as Vice Chairman, another example of Trump picking mainstream figures for the central bank. Kazakhstan unexpectedly cut rates while Israel stayed on hold.

Read More:
Weekend Reads
Chart of the Week
Before it's here, it's on the Bloomberg Terminal.
LEARN MORE