Business
Companies Are Filling Their Boards With Newbies
First-timers, women, and minorities are getting a shot at a position often reserved for a CEO.
By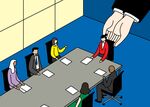 For most of the past decade, Cheryl Miller has spent her days trying to put more cars on America's roads—first as the treasurer and now as the chief financial officer of AutoNation Inc., the largest auto retailer in the U.S. And for the past year she's been working on behalf of another of the country's biggest companies, Tyson Foods Inc., as one of the newest members of its board of directors.
When she was appointed in late 2016, at age 44, Miller, one of several female directors in the meat and poultry company's 83-year history, had never served on a corporate board. A growing number of companies, including Tyson, Republic Services, Foot Locker, and Best Buy, are eschewing traditional board candidates—retired chief executive officers, who are overwhelmingly older white men—and opting for diverse members, many of them first-timers with no experience.
In 2017, 45 percent of appointees to the boards of S&P 500 companies were novice directors, the most since recruiter Spencer Stuart started keeping tabs in 2006. Last year also was the first time a majority of the incoming directors were women or minority candidates. "Two years ago, they would have said, 'Oh, it would be great to have diversity, but we really want a CEO,' " says Julie Daum, who leads Spencer Stuart's North American board practice. "Now it feels like the female will occasionally beat out the CEO."
Tyson's board started searching for new candidates about three years ago, after the company's $7.8 billion purchase of rival meat producer Hillshire Brands. Since then, two other younger first-time directors have joined the board, both white men: Jeff Schomburger, 56, global sales officer at Procter & Gamble Co., in late 2016, and Dean Banks, 44, who heads the X unit of Google parent Alphabet Inc., in late 2017. "I've seen a richer outcome from having a whole lot of voices around the table trying to have the best conversation possible," says John Tyson, chairman of the company.
Waste management company Republic Services Inc. has been looking for diverse directors since 2011, after a 2008 merger with Allied Waste Industries left it with an all-male board, including one black man. "Change meant bringing people into the waste business who had other experiences," says CEO Don Slager. "Prior to the merger, frankly, they were just a bunch of garbage men."
As part of this push, the company enacted some new policies, including a mandatory retirement age of 73 for directors. A variety of experience also was a priority, Slager says. Candidates ideally would bring expertise in areas not already represented, such as logistics and financial reporting. "When you drop a layer below the C-suite, it opens you up to a whole new group of people who are the future leaders of these organizations," he says.
Within five years, retirements created a few openings. Republic added Jennifer Kirk, 43, the controller at oil producer Occidental Petroleum Corp., in July 2016, and Sandra Volpe, 50, the senior vice president for strategic planning for FedEx Ground, in December of that year. Both had never been directors before. In 2017 a third woman, Kim Pegula, 48, one of the principal owners of the NFL's Buffalo Bills and another novice, joined Republic's roster.
Changing a board's demographics and traditions comes with risks, says David Larcker, a professor at Stanford's Graduate School of Business. "We're really pro-diversity," he says. Still, the board needs to function well to perform its oversight. "It's not just a check box," he says. "It's going to take some give or take on both sides."
Less experienced directors often require more training and resources early in their tenure to better understand and fill their roles, says Bonnie Gwin, who heads the board management practice at executive recruiter Heidrick & Struggles. Often boards pair new members with experienced directors who serve as coaches during the transition.
For Miller, joining Tyson's board required regular one-on-one meetings with the other directors before her appointment, as well as a crash course in the meat company's business. She also was coached by AutoNation's lead director, Michael Larson, the chief investment officer of BMGI, which manages Bill Gates's non-Microsoft investments and those of the Bill & Melinda Gates Foundation Trust. (Larson also sits on Republic Services' board.)
Getting that first appointment is hard, says Stacy Brown-Philpot, 42, CEO of TaskRabbit Inc., which connects consumers with home-improvement services. Many boards still are reluctant to appoint executives who don't have a track record, she says. It took her three years to land her first appointment, at HP Inc., in 2016. She says she felt she needed to bolster her application with recommendations from big names, such as Facebook Chief Operating Officer Sheryl Sandberg and HP CEO Meg Whitman.
Turnover remains slow. Fewer than 7 percent of directors' seats change hands in any given year, and the average age has risen to 63, from 61 two years ago, according to Spencer Stuart. As long as it takes, Miller says, she's committed to helping more candidates like herself. "Let's look at diversity not just because it's going to check a box," she says, "but because we think it's going to add value as a company in the marketplace."
BOTTOM LINE -
More than 75 percent of corporate directors in the S&P 500 are white men. Several companies are actively working to change that.
Before it's here, it's on the Bloomberg Terminal.
LEARN MORE