business
Caisse's Stake in Kinder Brings Quebec Fund Into Pipeline Feud
By , , and
Shares would make pension fund the largest outside holder

Trudeau already attempting to mediate between Alberta and B.C.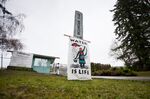 Caisse de Depot et Placement du Quebec disclosed a large stake in Kinder Morgan Canada Ltd., potentially bringing the country's second-largest pension fund manager into the acrimonious fight over the Trans Mountain pipeline expansion.
Montreal-based Caisse held 10.2 million shares as of Dec. 31, according to its annual report released Tuesday. The stake, worth about C$181 million ($143 million) at Wednesday's prices, would make it the largest outside holder of Kinder's Canadian unit, amounting to about 3 percent of the stock in the pipeline company or 7.8 percent of the publicly available shares. It's unclear how many the fund manager holds now.
The disclosure is another twist in a saga that has Alberta's provincial government threatening to impose an oil embargo on neighboring British Columbia, with Prime Minister Justin Trudeau attempting to mediate by launching talks to potentially support the company financially. A halt to energy shipments would have ripple effects across North America's west coast.
Leery of federal overreach, Quebec's government had essentially sided with British Columbia -- the birthplace of Greenpeace -- in its fight against Trudeau's attempt to flex jurisdictional muscle and ensure the pipeline's construction. Now the pension fund manager's disclosure reveals Quebeckers have a direct stake in its completion.
Another pipeline, TransCanada Corp.'s Energy East project through central Canada to the Atlantic coast, was scrapped in October amid fierce opposition in Quebec.
Read more about what Trudeau could do to save Trans Mountain
The Caisse's current stake in Kinder Morgan's Canadian unit is unclear. When contacted by Bloomberg on Wednesday, Caisse spokesman Maxime Chagnon declined to confirm whether the pension fund manager still held the shares, citing internal policies. The Caisse only discloses its positions in Canadian publicly traded companies once a year.
British Columbia announced Wednesday it would seek a court opinion on whether it has jurisdiction to interfere with the federally approved project. The so-called reference case will be filed by April 30 at the B.C. Court of Appeal, the highest court for questions of this kind, according to a statement. Premier John Horgan's own legal advice prior to taking office was that it would be "unlawful" to block the project but the province could skirt that by saying it seeks to defend its coast.
An opinion poll released by the Angus Reid Institute on Wednesday found support for the pipeline is rising in British Columbia. It now stands at 54 percent, up from 48 percent in February.
Carbon Review
The Caisse's investment in Kinder Canada came before it announced plans to scale back its holdings in carbon-intensive industries in favor of renewable energy, Chagnon said. That means Caisse bought in between Kinder Morgan Canada's initial public offering last May and the pension fund manager's strategic shift in October.
Caisse aims to reduce its carbon footprint by 25 percent per dollar invested by 2025, Chief Executive Officer Michael Sabia said at the time. Already among the world's largest renewable energy investors, its wants to increase low-carbon investments by 50 percent over three years.
All of Caisse's investments are being reviewed in light of its new climate policy, Chagnon said Wednesday. He wouldn't discuss Kinder Morgan specifically, saying "we never tell the market what we plan to do."
— With assistance by Scott Deveau, and Natalie Obiko Pearson
Before it's here, it's on the Bloomberg Terminal.
LEARN MORE