Cars
Tesla Climbs on Musk's Measures for More Model 3, Plus Profit
By
Latest target: to make 6,000 of the sedans weekly by end-June

'This makes us more confident,' analyst Munster says in note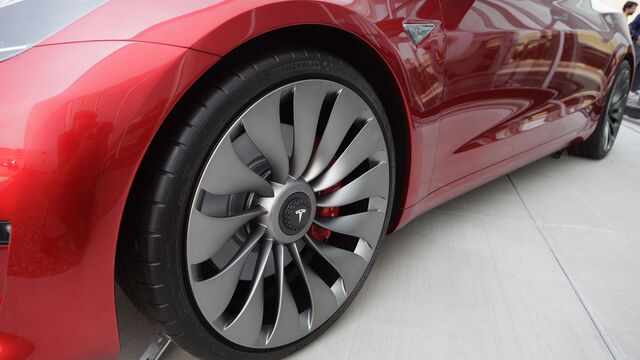 Tesla Inc. jumped after Chief Executive Officer Elon Musk laid out measures to boost production of his most crucial electric car and rein in expenses to achieve profitability.
The automaker's Fremont, California, assembly plant will begin around-the-clock production to accelerate Model 3 output, Musk told employees in an email Tuesday. He acknowledged criticism that Tesla is "not a real company" until it generates profit and said this is a goal now that Tesla has more scale.
Tesla's fortunes ride on boosting Model 3 output. The company needs revenue from delivering more cars to customers after spending billions of dollars to boost manufacturing capacity. Musk laid out a goal to build 6,000 of the sedans a week by the end of June, more than the 5,000-a-week target his carmaker had communicated previously.
"This makes us more confident in Tesla's ability to ramp Model 3 production to a level that will satisfy investors," Gene Munster, a managing partner at venture capital firm Loup Ventures, wrote to clients Tuesday. Tesla shares advanced as much as 4.4 percent and were up 3.5 percent to $297.70 as of 10:32 a.m. in New York.

In the email first obtained and reported by the blog Electrek, Musk wrote that all Model 3 production at Fremont will move to 24/7 operations, including general assembly, body and paint. The CEO also signaled Tesla is planning another pause in Model 3 output next month after stopping for three to five days this week to make updates to its factories in California and Nevada.
The upgrades Tesla is making while idling the plants this week "should set us up for Model 3 production of 3000 to 4000 per week next month," he wrote.
Combing Through Costs
Musk, who has said his automaker will be profitable and cash-flow positive in the third and fourth quarters and won't need another capital raise this year, also outlined cost-saving measures in the email.
"I have asked the Tesla finance team to comb through every expense worldwide, no matter how small, and cut everything that doesn't have a strong value justification," he wrote. "All capital or other expenditures above a million dollars, or where a set of related expenses may accumulate to a million dollars over the next 12 months, should be considered on hold until explicitly approved by me."
Tesla's Fremont factory lines have been running on two shifts. Musk's email doesn't elaborate on the specifics of how a third will be added to the production schedule, and a company spokesman declined to comment.
Now Hiring
About 10,000 people already work at Tesla's assembly plant, and that number will be growing. Between Fremont and its battery factory near Reno, Nevada, Tesla will be adding about 400 people per week for several weeks, Musk wrote.
Tesla produced 9,766 Model 3s in the first quarter and missed a goal to build 2,500 of the sedans in the last week of March. Musk touched on why he was setting a higher target internally than the one the company has communicated publicly in his email.
"The reason that the burst-build target rate is 6,000 and not 5,000 per week in June is that we cannot have a number with no margin for error across thousands of internally and externally produced parts and processes," he said, noting that the carmaker produced 2,250 of the sedans last week.
Musk said that going forward, workers should walk out of meetings or drop off of a call "as soon as it is obvious you aren't adding value" and avoid using "acronyms or nonsense words for objects, software or processes at Tesla" to boost their productivity. He thanked his team for "accomplishing miracles every day."
"We are burning the midnight oil to burn the midnight oil," he said.
— With assistance by Josh Eidelson
Before it's here, it's on the Bloomberg Terminal.
LEARN MORE