Fringe Polish Group Probe of Israeli President's Comments
By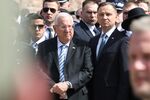 A fringe Polish group has asked prosecutors on Tuesday to investigate if Israel's president broke a new law that criminalizes suggesting that the Polish nation was in any way responsible for the Holocaust.
The National Movement believes that during a visit last week, President Reuven Rivlin said that "Poland and Poles had a hand in the extermination" of Jews during World War II, according to a statement on its website.
A law passed this year, which has upended Poland's relations with Israel and drew criticism from the U.S. as well as western European governments, says that assigning responsibility for Nazi crimes to Poles and the Polish nation can be subject to prosecution.
While the law is binding, ruling party politicians said they are waiting for the legislation to be vetted by the country's Constitutional Tribunal, which may knock down some or all of it.
Before it's here, it's on the Bloomberg Terminal.
LEARN MORE