politics
McConnell Opposes Trump's Attempt to Cancel Some 2018 Spending
By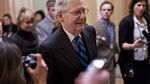 Senate Majority Leader Mitch McConnell said Tuesday he opposes a White House attempt to cancel billions of dollars in federal spending from last month's 2018 appropriations bill, likely dooming the effort.
President Donald Trump had called the spending bill "ridiculous" and initially threatened to veto it because it didn't provide $25 billion for a wall at the border with Mexico. He ultimately signed the bill, but in the following weeks, White House officials began talking about asking Congress to rescind some of the domestic spending in the bill.
McConnell of Kentucky told Fox News on Tuesday that he opposed such an effort because it would break trust between the parties.
Trump "agreed to it. He was involved in the negotiation and signed the bill," McConnell said. "We had an agreement with the Democrats," the majority leader said. "You can't make an agreement one month and say OK, we really didn't mean it."
Last week, Senate Appropriations Chairman Richard Shelby, an Alabama Republican, said he warned Trump at a White House meeting that the effort may not have the votes to pass the Senate.
Under the 1974 Budget Act, a presidential rescission request can pass the Senate with a simple majority of 51 votes. That means Republicans could bypass Democratic opposition because the normal 60-vote hurdle to advance a bill wouldn't be standing in the way.
— With assistance by John Fitzpatrick
Before it's here, it's on the Bloomberg Terminal.
LEARN MORE